The Unique Way Chance The Rapper Made SNL History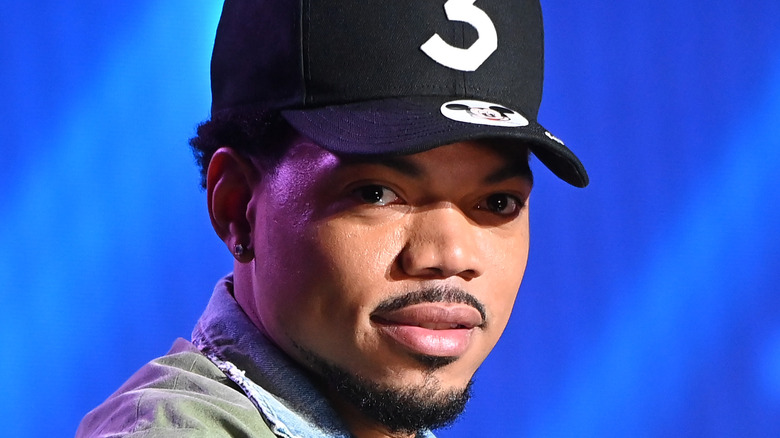 Paras Griffin/Getty Images
Normally when Chance the Rapper wants to do something, he just does it. His impressive catalog of albums, mixtapes, and side-projects gives us a very clear sense of this. If there's any fanfare around what he does, it usually doesn't seem to be of his making. To the point where when he does make history, it's easy to miss it — unless someone else is mistakenly credited for doing so.
This was the case in a recent discussion about a Saturday Night Live milestone dubiously attributed to another host. Chance is no stranger to SNL. He's performed as the musical guest three times (not counting his cameo with Justin Bieber) and hosted twice (via IMDb). He's also part of a distinguished list of artists who have pulled double duty of hosting and performing as the musical guest — one that includes Dolly Parton, Lady Gaga, Ariana Grande, Stevie Wonder, and many others (via Insider). But Chance has the unique honor of doing one thing on Saturday Night Live that no other guest had ever done before. 
Chance the Rapper is the first musical guest to introduce himself on SNL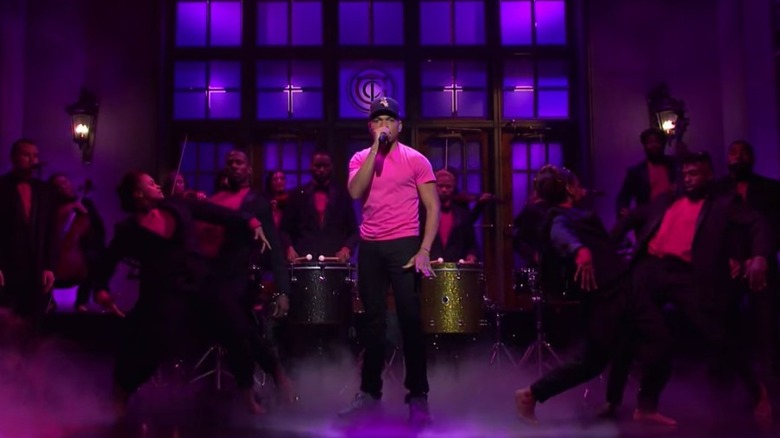 NBC Universal Television
Historically, when an artist pulls double duty, SNL foregoes the traditional introduction of the musical guest by the host, for obvious reasons. But a few people have strayed from the norm. In a recent episode, when host-slash-musical-guest Lizzo was about to begin her first musical number, she just looked into the camera and said "Ladies and gentlemen... me!" before taking the stage.
It was a slick move, for sure. Within minutes it was being lauded on social media as a first, including by Lizzo herself. However, fans were quick to point out in the replies to Lizzo's tweet that when Chance the Rapper pulled double-duty in October 2019, he also directly addressed the camera before performing: "Ladies and gentlemen... Chance the Rapper." Oops...
Some fans also pointed to a 2013 episode where Justin Timberlake (sort of) introduced himself, saying "Ladies and gentlemen ... make some noise, let's go!" There's also the conundrum of a few hosts introducing their alter-egos, including Donald Glover introducing Childish Gambino in 2018, and Garth Brooks introducing the cringe-inducing Chris Gaines in 1999 (but perhaps it's better we all forget that).
Lizzo took it all in stride, pointing out that while others might have come before, she is the first female artist to introduce herself on SNL. Credit where credit is due, she's also the first to play the flute while simultaneously twerking in a sketch. But even if it's on a technicality, Chance the Rapper definitely holds the honor of making this small mark on SNL history.