Aaron Paul On Returning To His Roots As Jesse Pinkman On The Final Season Of Better Call Saul - Exclusive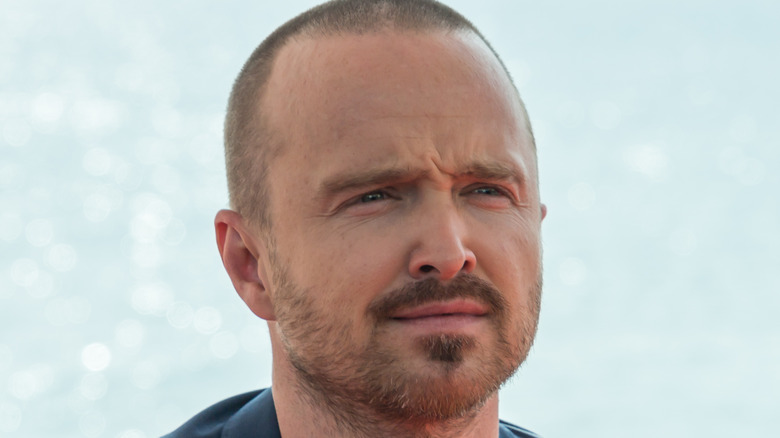 Luis Javier Villalba/Shutterstock
Aaron Paul has kept busy over the last few years — he can now be found on HBO's "Westworld" after a successful stint as Todd Chavez on "BoJack Horseman." His most recent film credit is the absurdist sci-fi thriller "Dual," which sees him as Trent, a trainer who's tasked with getting people in shape to battle against clones of themselves. But to a generation of pop culture enthusiasts, he'll always be Jesse Pinkman from "Breaking Bad."
The beloved series ran from 2008 to 2013 and saw Paul assume the mantle of Jesse Pinkman, who begins as a down-on-his-luck drug dealer and quickly ascends the ranks to become one of the most notorious drug manufacturers in the world. The show may have ended almost a decade ago, but its influence on the zeitgeist remains intact. Paul would even return to these roots in the Netflix original film "El Camino: A Breaking Bad Movie." 
It looks like Paul is heading back to the Albuquerque desert, as it's been reported he'll return to play Pinkman in an upcoming episode of "Better Call Saul." While Paul was promoting "Dual" in an exclusive interview with Looper, we naturally had to ask him about returning to his "Breaking Bad" roots with his future guest appearance. He couldn't spill much in the way of details, but suffice it to say, he loved the chance to go back to working with people he respects so much.
Aaron Paul feels 'blessed' to be part of the Breaking Bad mythos
With "Better Call Saul" heading into its final season, it was only natural for fans to wonder if Jesse Pinkman (Aaron Paul) and Walter White (Bryan Cranston) would make cameos in some capacity. Then, before Season 6 aired its first episode on April 18, the secret became public knowledge: Paul and Cranston would, indeed, return to reprise their old characters (via Variety). It's unclear when, where, or how they'll return, but they'll definitely come back for at least a scene.
Paul initially spoke about the revelation that everyone knew he'd come back in some way for "Better Call Saul," saying, "I learned that the cat was out of the bag when I was going to the premiere party of the [final] season of "Better Caul Saul." Right when I arrived, some friends of mine from the PR side approached me as I was getting out of the car. They're like, 'Hey, just so you know, Vince [Gilligan] and Peter [Gould] alluded to the fact that you guys were going to be in the show.'" That didn't faze Paul in the slightest, as he goes on to mention how he prefers not to keep any secrets. 
He couldn't talk about precisely what fans can expect out of his appearance — there have to be a few surprises, after all. But he did elaborate: "I feel blessed to be a big part of that universe that Vince created with 'Breaking Bad,' and now Vince and Peter with the rest of the writers with 'Better Call Saul.' I'm very excited for people to see what Bryan and I are doing, what we're up to."
"Dual" is in theaters now. New episodes of the final season of "Better Call Saul" air Mondays at 9 p.m. ET on AMC.