The NCIS Star You Didn't Realize Was A Regular On Bob's Burgers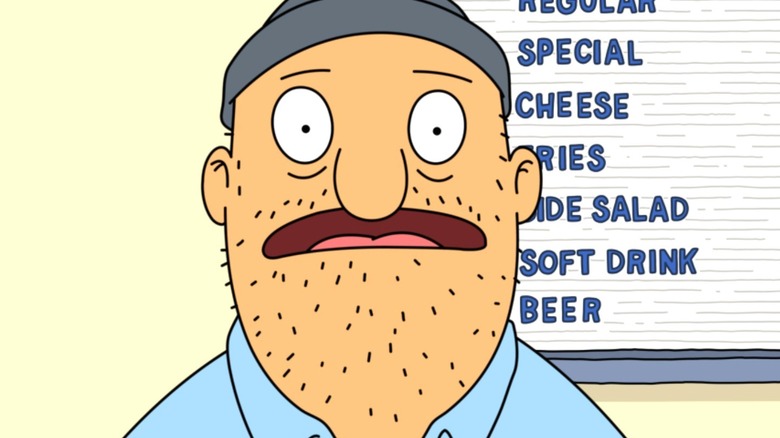 Fox
The worlds of "NCIS" and "Bob's Burgers" might seem pretty disparate to the unseasoned viewer. It's also kind of tough to imagine a person who watches both programs regularly, although surely there must be at least a few of them out there. For that reason, you might not be aware of the fact that one of the stars of the live-action crime procedural is also a fixture in the latter long-running animated sitcom, and he's a familiar face in plenty of other movies and television shows as well.
That's pretty typical for the life of a working character actor — taking on roles in projects that on the surface couldn't seem more different from one another. But it's still interesting, and possibly a little surprising, that someone could possess the dramatic and comedic range necessary to be an integral part of both the serious drama of "NCIS" and the goofy absurdity of "Bob's Burgers." Here's the unexpected face who plays a key role in both shows.
Gary Cole is both NCIS' Alden Parker and Bob's Burgers' Sergeant Bosco
Kathy Hutchins/Shutterstock
The prolific character actor in question is none other than Gary Cole, who recently joined the cast of "NCIS" in the role of Alden Parker, replacing Mark Harmon's Leroy Jethro Gibbs following Harmon's departure from the show in its 19th season. Cole is also the voice of the Belchers' frequent police presence, the sometimes-ally, sometimes-antagonist Sergeant Bosco, who is always on the case on Ocean Avenue. But this is far from Cole's only familiar role as a voice actor. Cole can be heard in everything from "Scooby-Doo! Mystery Incorporated" to "Family Guy," and he voiced the lead role in the 2000s Adult Swim comedy "Harvey Birdman: Attorney at Law."
Harvey Birdman isn't the only classic TV character Cole gave new satiric life to, as he also filled the shoes of Mike Brady in the 1990s "Brady Bunch" films. One of his other most familiar roles is passive-aggressive office manager Bill Lumbergh in "Office Space," but Cole's a recognizable part of all kinds of comedy highlights, including "Pineapple Express," "Curb Your Enthusiasm," and "Arrested Development." Of course, there's also his acclaimed work as Kent Davison in "Veep" — and his list of credits on IMDb is illustrious and full of hidden gems, to say the least.
Cole will soon be returning to "NCIS" for the show's upcoming 20th season as well as the Belchers' big-screen debut in "The Bob's Burgers Movie," which comes out on May 27, 2022. Clearly, his association with both of these shows is not about to end anytime soon.