The Flash Super Bowl 2023 Trailer Soars On Keaton's Bat-Wings, Despite Ezra Miller Controversy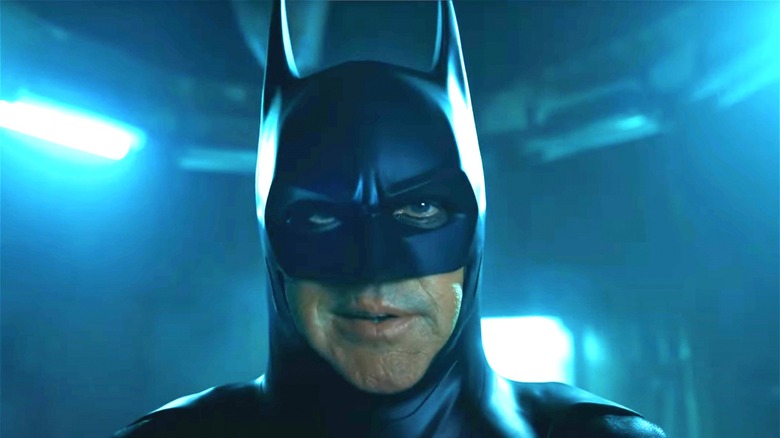 Warner Bros./DC Entertainment
Maybe it's low-hanging fruit, but for a film about a hero with super speed, DC and Warner Bros.' "The Flash" has taken its sweet time getting here. While The Flash in the original comics has seen a number of iterations over the years, the character with which most contemporary fans are most familiar — and the one around which the latest film revolves — is college student Barry Allen (Ezra Miller). 
Aside from the requisite pandemic-relate delays, Warner Bros.' "The Flash" has been mired in controversy related to its young and troubled star. As a result, it's a bit hard to separate the project from all the negative headlines. Fortunately, "The Flash" has a secret weapon that has essentially nothing to do with Ezra Miller: the return of Michael Keaton's Batman.
Now that the wait is over for the first trailer, which dropped during 2023's Super Bowl, it's worth noting that Keaton's much-hyped return may be exactly what Warner Bros. needs to rescue this project. 
Ezra Miller controversy almost overshadows the hype
"The Flash" had been in the works for over eight years leading up to this year's release, but The DCEU was all but stopped in its tracks by the disappointment that was "Justice League." Following the film's lukewarm reception, the studio scrapped its focus on a series of interconnected stories and turned its attention to standalone films like the 2019 hit "Shazam!" 
By 2017, Flash as we know him had already popped up in both "Batman v Superman: Dawn of Justice" and the Joss Whedon and Zack Snyder versions of "Justice League." The speedster's solo film then suffered from repeated creative shuffles, delays in filming, and the aforementioned set of scandals delivered courtesy of Miller. It's become almost a cliché to call a production cursed, but it's a cliché that suits well enough in this instance.
If anything, this brand-new trailer reminds us that we all still have something to look forward to in this film, regardless of how we feel about Miller: Michael Keaton in a batsuit.