The First Avatar: The Way Of Water Trailer Is A Reminder Not To Sleep On James Cameron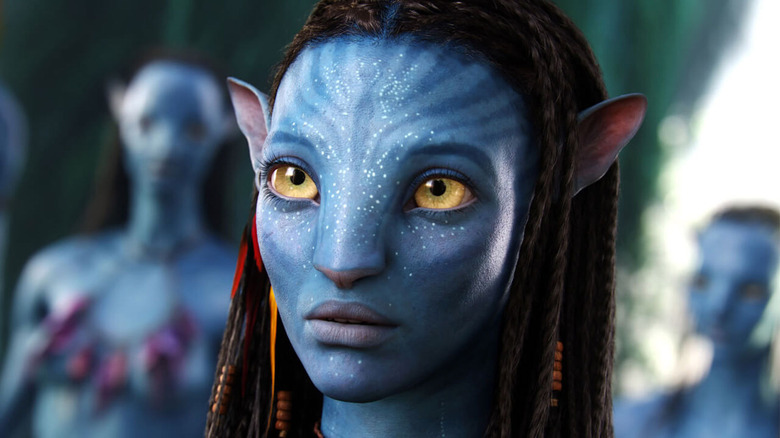 Disney
It's been 13 years since critically acclaimed director James Cameron first transported audiences to the world of Pandora in 2009's "Avatar." Quick recap, the first film sees paraplegic Jake Sully (Sam Worthington) take his brother's place on a mission to the alien world to inhabit a man-made Na'vi body to work with the indigenous population. Yes, it's basically "Pocahontas" in space, but it's a cinematic experience like no other. It raked in $2.743 billion (via Box Office Mojo) worldwide thanks to its various re-releases, and now it's finally time to return to the highest mountains and the deepest oceans for "Avatar: The Way of Water."
Cameron has been working on the highly anticipated sequel for years. Filming got underway back in 2017, shooting back-to-back with "Avatar 3," which is reportedly titled "The Seed Bearer" (via BBC). The 2022 sequel picks up a decade after the original film, as Sully and Neytiri (Zoe Saldana) raise a family of their own on Pandora while clashing with Resources Development Administration again, which is still led by Parker Selfridge (Giovanni Ribisi).
The first trailer for "The Way of Water" has finally arrived thanks to "Doctor Strange in the Multiverse of Madness" and it teases an exhilarating return to Pandora.
James Cameron doesn't miss
Film fans know that James Cameron has an eye for what makes great cinema, just look at "The Terminator," "Aliens," "The Terminator 2," "Titanic," and ... well, you get the idea. So audiences already have high expectations for "Avatar: The Way of Water" — and Cameron has seemingly delivered. The first trailer reveals a stunning new look at Pandora, with a sweeping look at the lush forests as well as gorgeous oceans that the Na'vi travel through using giant beasts.
It also briefly introduces fans to Jake's new family, including the adopted Javier "Spider" Soccoro (Jack Champion) who wears an oxygen mask around his adventures on Pandora thanks to its dangerous atmosphere. We also briefly get a look at a new squad of man-made Na'vi soldiers at the RDA base, as the organization seems to be arming themselves for another fight.
The trailer doesn't reveal too much about the story as there isn't much dialogue, aside from Jake telling Neytiri that their family is a "fortress." Clearly the RDA is still trying to mine Pandora for its resources, and it looks like Jake will do everything he can to protect his blue crew. Hopefully we'll start to get more footage and information about the "Avatar" sequel in the run up to its release, as "The Way of Water" arrives on December 16, 2022.