Why Jesse Cardoza From CSI: Miami Looks So Familiar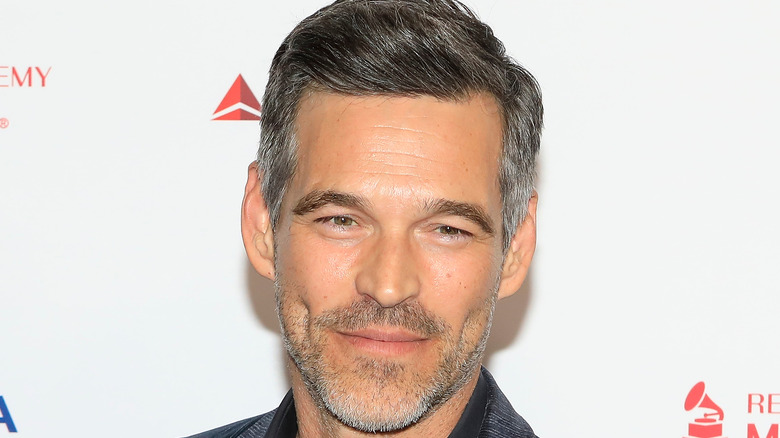 Kathy Hutchins/Shutterstock
CBS procedural "CSI: Miami" is one of those shows that will go down in history for spawning so many memes that it eventually devolved into a parody of itself — but not before the character of Jesse Cardoza was introduced. Cardoza is a Level 2 crime scene investigator who, sadly, is murdered by a serial killer at the very beginning of Season 9. His death hits the other members of the CSI team hard, and his presence is dearly missed as they try to pick up the pieces and get back to solving crime.
If the actor who played Cardoza looks familiar to you, it's because he's been a popular television actor since the 1990s. Eddie Cibrian got a big leg up on "The Young and the Restless" during that decade, eventually breaking out and getting walk-on roles on big shows like "Beverly Hills, 90210" and "Sabrina the Teenage Witch" (via IMDb). After those appearances, it launched a fruitful career in TV movies, network dramas, and even a major motion picture.
He has roots in soap operas like Sunset Beach
"The Young and the Restless" wasn't the only '90s soap opera where Eddie Cibrian started honing his craft. He also plays a major role as Cole Deschanel on "Sunset Beach." According to his IMDb profile, he starred in over 450 episodes during the show's two-year run. On the NBC soap, Cole is a handsome bad boy and former thief who romances his way into the bed of his on-again, off-again love interest, Caitlin Richards (Vanessa Doorman). He also does the same with her mother,  Olivia (Lesley-Anne Down). Cole's two-timing leads to the shocking twist that both mother and daughter are pregnant by him. Olivia is suspicious of Cole due to his criminal past, so she does what any soap opera parent would do in order to protect her daughter from marrying a bad man: She plots to steal her daughter's baby and pass it off as her own. And that's just the beginning of that story. (They sure don't make soap operas like they used to.)
Despite off-the-wall storylines similar to that one, "Sunset Beach" suffered from declining ratings throughout its run. It aired its final episode in late December 1999, adding insult to injury by cutting the show's run just before its third anniversary (according to Soaps). If you're feeling nostalgic, you'll have to buy the entire series on DVD because it isn't available anywhere else.
Cibrian goes spelunking with scary monsters in The Cave
It isn't just television movies where Eddie Cibrian got paired up with some big-name actors. He also got to star alongside a pretty well-known ensemble cast for "The Cave" back in the early 2000s. His fellow spelunkers in this feature include Cole Hauser ("Pitch Black"), Lena Headey ("Game of Thrones"), Daniel Dae Kim ("Lost"), and Morris Chestnut ("Boyz n the Hood"). In the movie, Cibrian plays Tyler McAllister, the brother of Jack McAllister (Hauser). Like his older brother, Tyler is an experienced cave explorer who is put through the wringer when their team is trapped deep in a Romanian cave system.
With that much star power, you'd think "The Cave" would have become a top-tier staple of the horror genre. Unfortunately, critics and audiences weren't so impressed. According to Rotten Tomatoes, neither the story nor the cast was enough to earn higher than a 12% approval rating from critics (and a not-much-better 28% from audiences). Maybe one of the reasons that the horror aspect didn't translate well on screen was because filming the movie was so far from it. In a 2005 MTV interview with Cibrian, the actor laughed at length about how the cast and crew had a blast during filming, largely because of a guy named Brian Steele. Steele is the stunt guy wearing the monster costume, which was later replaced with the CGI creatures that the actors had to pretend to be scared of. But Steele's big, clunky monster head and occasional clumsiness turned the set into a slapstick comedy.
He plays a kind-hearted but unfaithful husband in Ugly Betty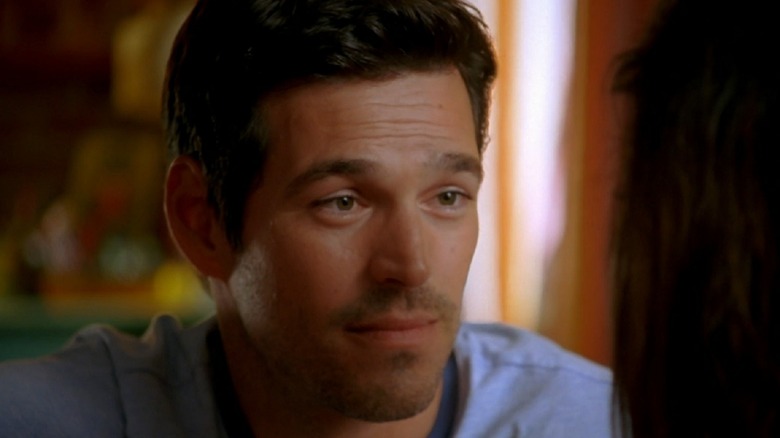 ABC
American television has a long history of importing hit shows from foreign countries in hopes of seeing similar or better success with the U.S. reboot. On that very long list of shows is a comedy series called "Ugly Betty," which aired on ABC from 2006 to 2010. The comedy series stars America Ferrera as the titular Betty Suarez, a shy and nerdy young woman whose life is forever changed when she secures a job in the New York fashion world. The gig may not be as plum as she hoped, but Betty's presence in the office changes her — and her co-workers — in surprising ways. The ABC show was based on a Columbian telenovela "Yo soy Betty, la fea."
Eddie Cibrian plays Coach Diaz, the physical education teacher for Justin, the son of Hilda Suarez (Ana Ortiz), Betty's older sister. According to his IMDb page, he is in a total of seven episodes, which spans the amount of time Diaz and Hilda had a brief romance. Their love connection is soured when she finds out he is still married to his estranged wife. He promises to finalize the divorce and be with Hilda legitimately, but things go downhill for the two lovebirds faster than he anticipated. Hilda ends the relationship, effectively ending Cibrian's time on the show as Coach Diaz.
Country Comfort is Cibrian's latest short-lived TV outing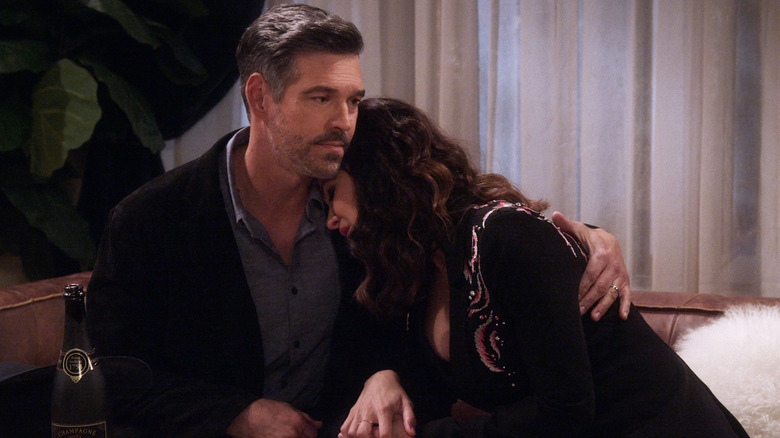 Courtesy of Netflix
Over the last decade or so, there's been a disconcerting trend in Eddie Cibrian's career: He's been involved in several TV projects where he had a leading role for one season, only for things to end quickly. There was a delayed onset with "CSI: Miami," where he starred in Season 8, and then the show called it quits after Season 10 (via Entertainment Weekly). "The Playboy Club" barely aired more than a few episodes before it was pulled off the air in 2011 (via The Hollywood Reporter). The same thing happened after he joined for "Rosewood" Season 2, with Deadline announcing the show's cancellation in May 2017. Perhaps the most heartbreaking cancellation of all is "Country Comfort," the 2021 Netflix original once poised to put Cibrian back in the spotlight (via TVLine). 
On the show, Cibrian plays a widower named Beau, who is struggling to keep his farm afloat while raising his five children as a single dad. His life gets further turned upside down when Bailey (Katharine McPhee), a country singer, comes into the family as a nanny. "Country Comfort" pulled out all the stops to solidify itself as one of Netflix's top sitcoms. It featured veteran country music star LeAnn Rimes (who also happens to be Cibrian's wife) and even won an Emmy for outstanding cinematography for a multi-camera series. The cast went on an aggressive social media campaign, giving away prizes on Instagram and asking fans to help the show gain traction to prove that there was demand for it. Sadly, it didn't save the streaming show.