The Best Relationship In The Umbrella Academy According To Fans
"The Umbrella Academy" is one of those stories that gets even weirder with context. The Netflix series — which is already a beautifully bizarre tale of handling otherness, reminiscent of both the "X-Men" and "Doom Patrol" franchises — is based on the comics of the same name by Gerard Way, the lead singer of "My Chemical Romance." That's right; when he's not welcoming an entire generation to the Black Parade, Way spends his time crafting heroes with severe daddy issues.
At the core of "The Umbrella Academy" are seven adoptive siblings, brought together under one roof by a mysterious billionaire, who also drove them apart with his ostensibly crappy parenting skills — that, and his propensity to force them into superhero training, a feat that ends up killing one of their own. Now, well into their adult years, the seven (yes, that number is still accurate) struggle to stand side by side, let alone terminate legitimate threats.
Way's work balances camp with the perfect blend of acceptance, a theme further deepened by his immediate decision to transition Vanya Hargreeves (aka Number Seven, aka The White Violin) to Viktor Hargeeves (aka Number Seven, aka The White Violin) when the role's performer, Elliot Page, announced he was transgender. It's then perhaps a distasteful segue to say that "The Umbrella Academy" features other means of acceptance by way of odd relationships. While some of those are just a little too strange for fans, they also weren't shy about their opinions when it came to picking their favorite relationship.
Number Five (aka The Boy) and Dolores (a literal mannequin) are the best couple in The Umbrella Academy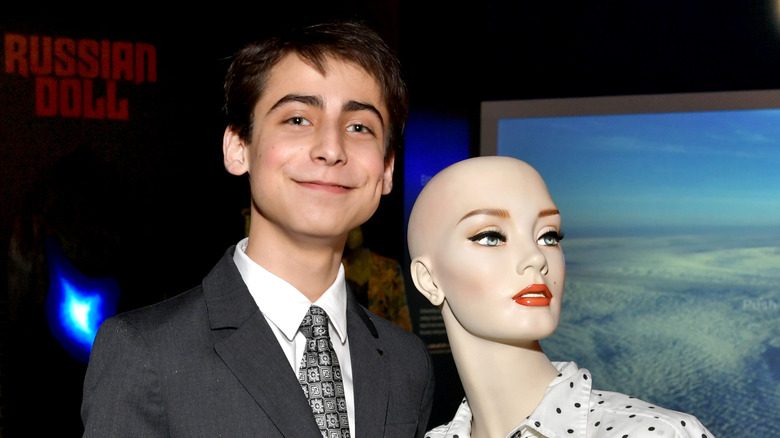 Emma Mcintyre/Getty Images
Reddit user u/mahek23 posted a Tumblr screenshot to r/UmbrellaAcademy that contained a post from nico-di-angelol, which said, "cheers to the umbrella academy for making everyone ship the fifteen year old and the mannequin more than the straight relationship of luther and allison," to which u/mahek23 added, "its incest and we dont support it." For context, Luther Hargreeves (Tom Hopper) and Allison Hargreeves (Emmy Raver-Lampman) are two of the seven adopted siblings, and they absolutely are an on-again-off-again couple. While technically unrelated, they are legally siblings, and that's enough reason to deter fans from supporting their poorly hidden trysts.
Five Hargreeves (Aidan Gallagher), on the other hand, fell in love with a mannequin that he named Dolores. Five has the ability to jump through space and time, and when he was only 13 years old, he accidentally jumped into a post-apocalyptic future where his only companion for decades was Dolores. After becoming a time assassin, he finally made it home. He miscalculated by a few years — all of his siblings were adults by then — and accidentally trapped himself in his 13-year-old body, but he made it back. He immediately found Dolores again in her department store display.
The fans unequivocally adore them together. In a comment that received 2,000 upvotes, u/meretneith said, "Five and Delores (and pretty much every other couple in the show) have way more chemistry than Luther and Allison ever did." While most of the 400-plus comments hotly debated the morality and legality of Luther and Allison as a couple, everyone who chose to add their two cents about Five and Dolores were kind. Honestly, no other couple on the show comes close.