What Aidan Gallagher Really Thought Of Dolores' Arc In Umbrella Academy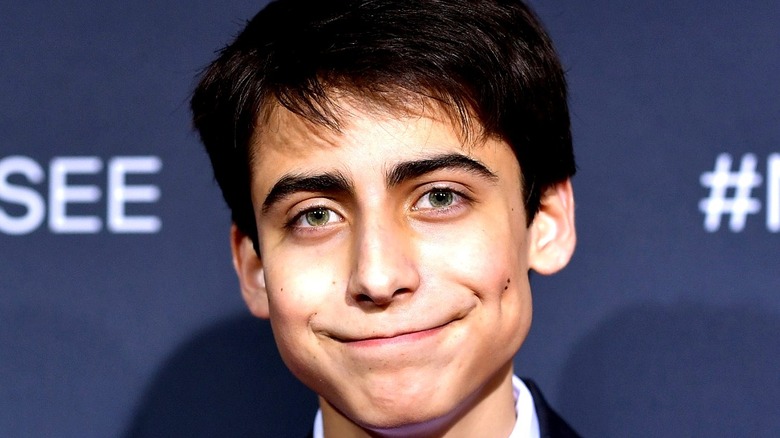 Netflix
When "The Umbrella Academy" first dropped on Netflix in 2019, it was an instant hit. Based on the comic book series by "My Chemical Romance" singer, Gerard Way, it focuses on the lives of super-powered individuals. Following a bizarre event in which 43 suddenly pregnant women gave birth simultaneously, Sir Reginald Hargreeves adopted seven of those children and formed a crime-fighting team. 
Each member — and most likely, all the others who weren't adopted — has their own unique powers. Luther (Tom Hooper) possesses superhuman strength and resilience; Diego (David Castañeda) manipulates the trajectory of both his weapons and others; Allison (Emmy Raver-Lampman) uses the phrase "I heard a rumor" to control others' actions; Klaus (Robert Sheehan) communicates with the dead; Number Five (Aidan Gallagher) teleports and travels throughout space and time; Ben (Justin H. Min), who was killed as a child, summons a tentacle monster to attack enemies; and Vanya (Elliot Page) harnesses sound and energy in a highly destructive way.
Years after going their separate ways, the Hargreeves children return home for their father's funeral. Five — after having disappeared years ago — suddenly comes back and tells his siblings of the upcoming apocalypse. During his time in the future, Five had to deal with the death of his family, and the loneliness that had him seeking comfort in a mannequin. In an interview with Alternative Press, Gallagher spoke about this odd relationship and its impact on Five's life.
Dolores is a product of Five's loneliness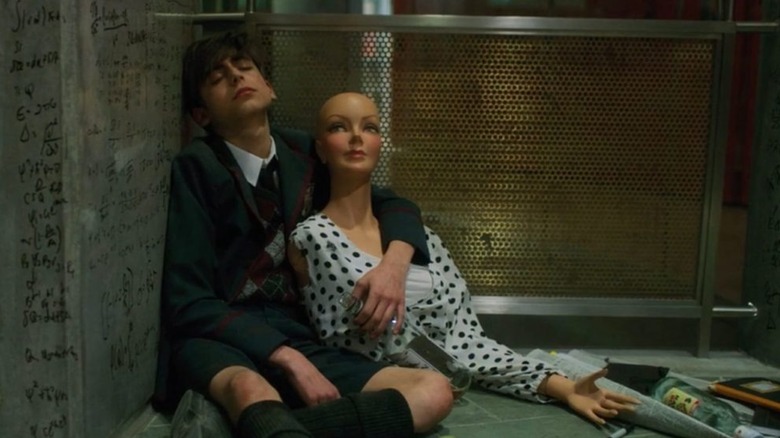 Netflix
After finding himself unable to travel back to his own time, Five is forced to live in isolation among the rubble and corpses of his old home, family, and world. He is determined to survive in his new surroundings while his feelings of despair and loneliness threaten to crush him. After finding a mannequin — with one arm and no lower body — in the wreckage of a store, he takes it with him, longing for any kind of companionship. He lovingly calls her "Dolores," and even invents a personality for her to make her more human. 
Aidan Gallagher told Alternative Press he believes that Five's relationship with Dolores wouldn't happen in any other timeline. If he had not traveled through time, he and Dolores would probably never cross paths. He calls her "a product of Five being trapped in the apocalypse for 45 years and going crazy from loneliness." 
However, Gallagher also implies that Five would not have that same love and affection with his own family. If he had never left the Hargreeves household, he probably would have shared the trauma his siblings carry. He would have left like they had, "become something" great thanks to his intellect and formed connections that he probably would never find within the others.