The Major Harry Potter Character J.K. Rowling Almost Played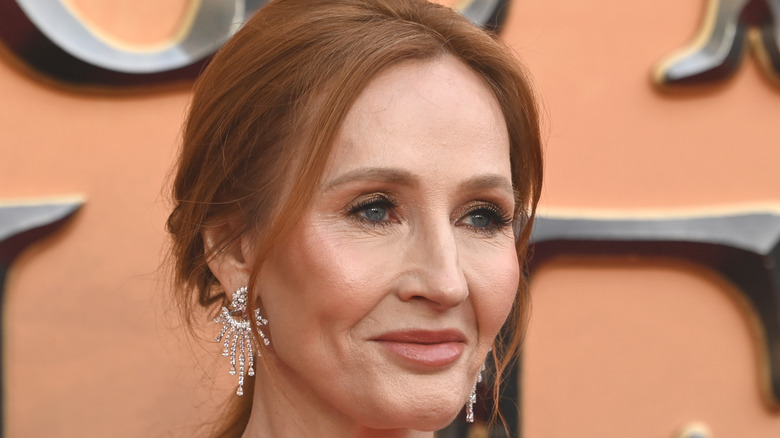 Stuart C. Wilson/Getty Images
The "Harry Potter" film franchise features a slew of top-name talent, including Alan Rickman as Potions Master Severus Snape, Maggie Smith as Transfiguration professor Minerva McGonagall, and Helena Bonham Carter as faithful Death Eater Bellatrix Lestrange, just to name a few. However, another well-known name came close to appearing on the big screen — J.K. Rowling, who brought Harry and the world of Hogwarts to life.
It was in 1990, while stuck on a delayed train heading to King's Cross in London, that Rowling brainstormed the concept of the series (via J.K. Rowling): a young boy who discovers that he's a wizard. Almost a decade later, "Harry Potter and the Sorcerer's Stone" was published, launching Rowling into unprecedented success.
For Rowling, who previously struggled financially and mentally, it was a drastic shift to have her work loved by the masses, especially given her lifelong passion for telling stories (via Insider). She went on to write six sequels, and the whole series was brought to life in eight epic movies, followed by the "Fantastic Beasts" films.
Rowling was part of the behind-the-scenes creative process and even almost stepped in front of the camera for one brief yet unforgettable scene in the inaugural movie "Harry Potter and the Sorcerer's Stone," released in 2001.
J.K. Rowling almost played Harry's mom in the Mirror of Erised
At the start of the "Harry Potter" series, one thing about "the Boy Who Lived" is made clear: Harry's parents, Lily and James, were killed by Lord Voldemort, who used the Killing Curse on them. After growing up with his miserable Muggle aunt, uncle, and cousin, Harry longs for true parental love.
In "Sorcerer's Stone," upon being gifted his dad's Invisibility Cloak by Headmaster Albus Dumbledore (Richard Harris), Harry ventures through the school at night. He stumbles across the mysterious Mirror of Erised, which shows someone's deepest desire. When looking into the mirror, Harry sees his parents proudly standing behind him.
Geraldine Somerville portrays Lily in the film, but she wasn't the filmmakers' first pick. In fact, Rowling was their initial choice. However, the author prefers to stay behind the scenes. She said on her website, "The filmmakers did ask me to play Lily Potter in the Mirror of Erised scene in the first film, but I really am not cut out to be an actress, even one who just has to stand there and wave. I would have messed it up somehow."
It's not uncommon for novelists to make cameos in screen adaptations of their work. Just look at Stephen King, who briefly appears in "Pet Sematary," "It Chapter Two," and many others. Seeing Rowling in the debut "Harry Potter" film would've been a cool touch, but her hesitancy is understandable given her nonexistent acting background.