The Story Behind Stephen King Landing A Cameo On Sons Of Anarchy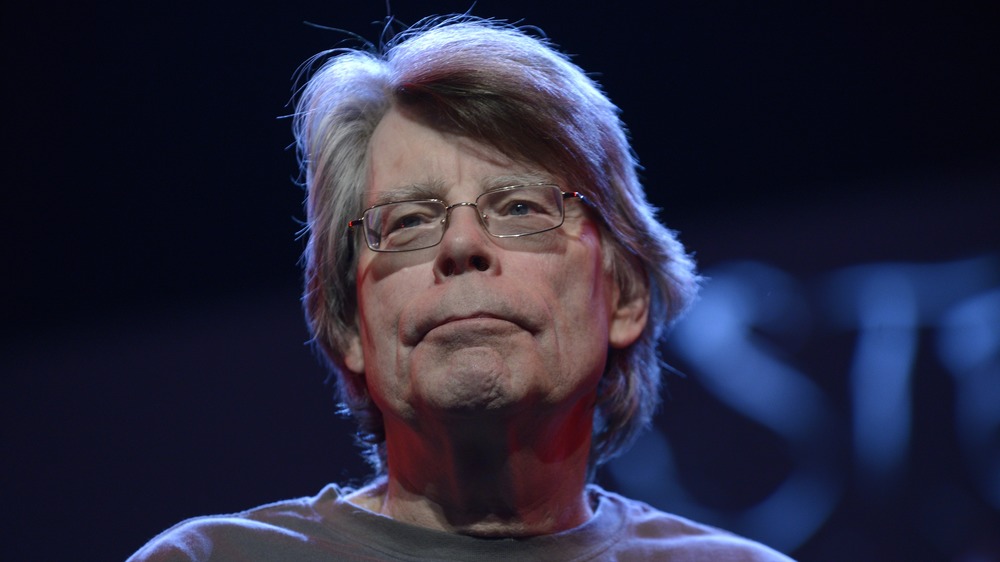 Ulf Andersen/Getty Images
Every once in a blue moon, a series becomes so well known — and gets so creatively good — that it attracts high profile talent like bees to pollen. FX's neo-western crime drama Sons of Anarchy was one of those shows, booking strange and exciting cameos from Marilyn Manson, Joel McHale, David Hasselhoff, Ashley Tisdale, Michael Chiklis, and Lea Michele. 
Each star had their own connection to the series that landed them there. In Michele's case, the singer-actress told Vulture that she was an avid fan who would "watch Sons of Anarchy DVDs in my trailer" while on breaks during Glee filming. Tisdale, also a big fan, revealed in an Entertainment Weekly interview that she nudged her father, who has done building work for showrunner Kurt Sutter and star Katey Segal, into asking for a role on the show, but Sutter was ultimately the one to offer first. 
Among the comedians, singers, and former Sutter series stars like The Shield's Chiklis was another big name fortunate enough to nab a highly-sought-after appearance on the now-ended series: horror icon Stephen King. The author appeared in the season 3 episode "The Caregiver" as Bachman, a man hired by Tig (Kim Coates) to dispose of Amelia's (Monique Gabriela Curnen) body after the caretake of Gemma's (Katey Sagal) father is stabbed and dies. Unlike some of the other cameo talent, King opined less privately about his love for it, writing positively about SOA in a column for EW before declaring in an FX video interview that, "I like the show, it's one of those shows which seems to have gotten better as it goes along, it's found its groove" (via The Los Angeles Times). 
King got his cameo after being in the right place at the right time — and Sutter meeting his one request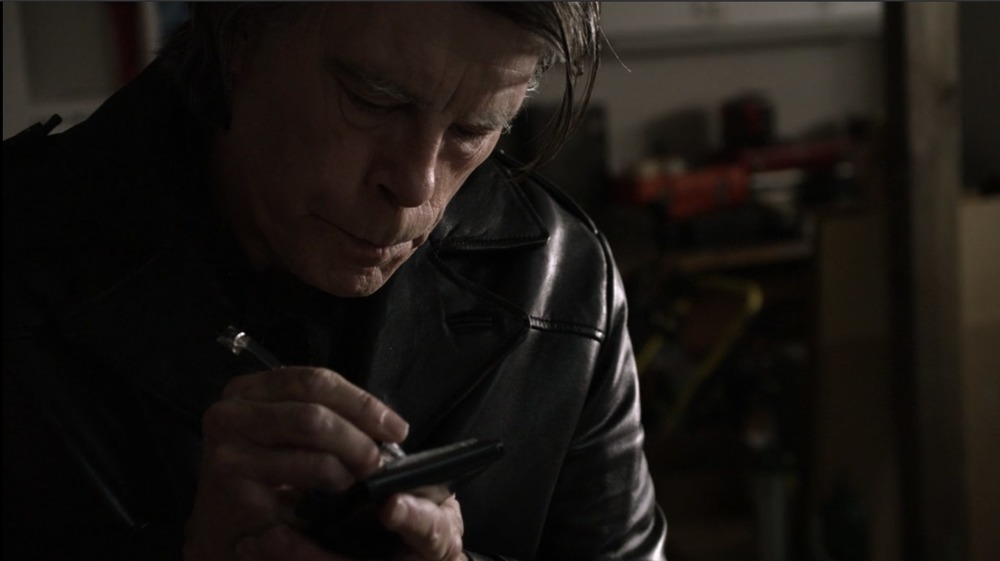 Both Sutter and King have shared how the entertainment icon landed on the show, with the author briefly detailing part of the story in a now unlisted video interview with FX. "[Creator] Kurt Sutter got in touch with me [and] said if you're ever out here, we'd like to have you on the show," King explained. He went on to quip that while he would ordinarily pass on the offer, Sutter agreed to put him on a Harley Davidson motorcycle, "so here I am." 
King offered up more specifics on his website, with the Sons fan writing that he "jumped at the chance" to make an appearance. "I like to act — not that I'm much good at it, but I suspect most writers do — and a number of factors came together," King said. "I was in Los Angeles, where SOA films, to accept a library award; creator Kurt Sutter assured me that he'd write me a suitably nasty part (in various films I've been stuck playing a series of mentally challenged country bumpkins); most important of all, he said he'd put me on a b—in Harley. How could I say no?" 
In a tweet addressing a fan question, Sutter told his side of the King cameo story, declaring that he loves the bestselling author and describing him as a "mensch," a mentor and friend. "I knew he was a fan of the show. I reached out. Gave him carte blanche — write, direct, act... All he said was that he wanted to ride a Harley," Sutter wrote. "So I put a cleaner on a big red bagger, and he came to play."
Stephen King chronicled his experience meeting the SOA cast on his website
On-screen, King drove in on the requested red Harley and exchanged a list of what he'd need with Gemma before proceeding to dispose of Amelia's corpse in an undisclosed manner. Viewers also saw Bachman, who never appeared again on the show, take a rather large and golden praying hands sculpture as part of the payment for his services. 
Off-screen, King got to do what most SOA fans would have killed for — he hung out with the cast, who "bonded into a little family on the ranch locale about an hour from the city where they do the filming," he wrote in his blog. He also noted how excited he was to meet several of the series' stars, including those who had appeared in or were attached to other screen adaptations of his own work. King also revealed that he snagged a few signed Hellboy photos for his three grandsons while meeting Perlman.
"I was particularly pleased to meet Charlie Hunnam (Jax) and Ron Perlman, who's acted in two of my movies (Sleepwalkers and the made-for-TV version of Desperation, where he was delicious as the evil cop, Collie Entragian)," King wrote. "I also got to act with Katey Sagal, who plays Gemma, the scary matriarch of the Sons clan, and Kim Coates, who plays Tig. They treated me like a professional, which I most assuredly am not. So did director Billy Gierhart (who also worked on The Mist)." 
Perhaps unsurprisingly, King also took time to bask in his admiration for the very bike that secured his cameo. "The bike was just short of awesome: a bright red Harley-Davidson Road-Glide. A little tricked-out for my taste, and if I'd dropped it, I never would have been able to pick it up, but I would have been glad to take it home (sadly, no deal). All black clothes, bright red sled — can't do much better than that."