Will There Be A Finding Nemo 3?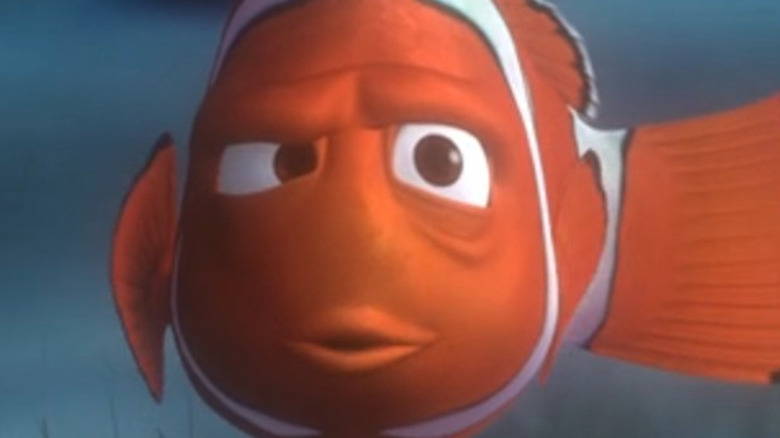 Walt Disney Pictures/Buena Vista Pictures
"Finding Nemo" continues to be a beloved Pixar classic by audiences to this day. The 2003 animated film tells the story of Marlin (Albert Brooks), a neurotic clownfish who goes on a daring quest with a forgetful blue tang named Dory (Ellen DeGeneres) to find his son, Nemo (Alexander Gould), after he is kidnapped and taken to a dentist's office aquarium in Sydney, Australia. "Finding Nemo" was a roaring success, earning over $900 million at the worldwide box office (via The Numbers), garnering endless critical praise, and winning Pixar's first Oscar for best animated feature (via Today). Parents and children alike have fallen in love with its cast of lovable characters, endlessly quotable lines, and its simultaneously heartfelt and emotionally-heavy themes regarding family, trust, and the grief process.
With such a massive hit, a sequel was almost inevitable, although not as soon as everyone expected. Released in 2016, "Finding Dory" sees the previous film's comic relief, Dory, go on an adventure to find her long-lost parents (voiced by Diane Keaton and Eugene Levy). She winds up in a California marine research center, and it is up to Marlin and Nemo to save her. While not quite as acclaimed as its predecessor, the sequel still managed to receive positive reviews and earned over $1 billion at the worldwide box office (via Box Office Mojo).
Due to the success of both films, it feels as though a third movie would be a natural next step, placing it alongside fellow Pixar entries "Toy Story" and "Cars" as franchises with more than two installments. However, a third film has yet to be announced. The closest we have gotten is a three-minute short titled "Dory Finding," made for the Disney+ "Pixar Popcorn" series. So, how likely are we to see a future installment?
Director Andrew Stanton doesn't rule out the possibility of Finding Nemo 3
At the time of writing, another film in the "Finding Nemo" franchise has not been announced. However, "Finding Dory" writer-director Andrew Stanton was asked about the possibility in a June 2016 interview with Entertainment Weekly.
Historically, Pixar has not been known to rush out sequels. This is evident not only in the 13-year gap between "Finding Nemo" and "Finding Dory" but also in 2010's "Toy Story 3," which was released 11 years after 1999's "Toy Story 2." In the case of the 2004 film "The Incredibles," the gap was even more extreme. Its 2018 sequel, "Incredibles 2," came out a whopping 14 years after its predecessor. Stanton remarked, "With any of the other sequels, we strive to try and make it seem like it was inevitable, like it was meant to be that all these extended stories and journeys with these characters were part of the whole canon," and went on later to say, "I feel like it was just as hard, if not harder, on ['Finding Dory'] to get it to feel inevitable and pre-ordained, and that it was always of the larger piece."
Stanton then told EW, "We should not approach any movie, no matter whether it comes from a universe pre-existing or if it's completely original, any differently. It should be inspired by a kernel of an idea for a story that we're going to want to battle for four years." The Pixar creative went on to say he would never say never to a third "Finding Nemo" movie but did offer this final observation to EW: "I've learned to just say, to my knowledge, I think everything that was born of the first movie is wrapped up. But we'll see."