Alec Baldwin Will Appear On The Saturday Night Live Season 43 Premiere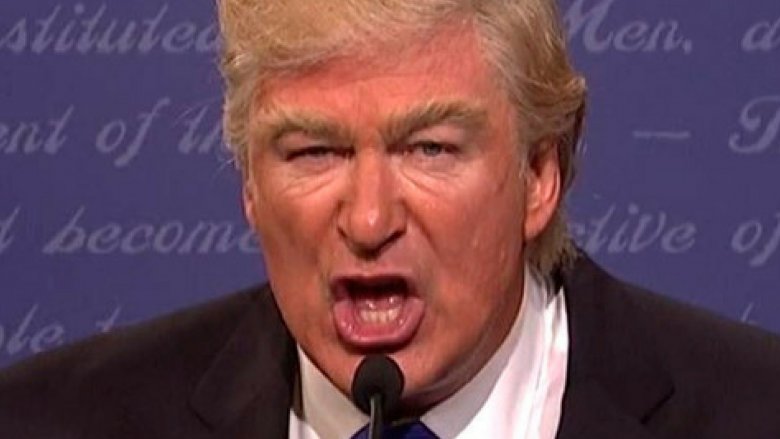 Donald Trump is returning to Saturday Night Live. Although he has waffled on whether or not he would bring his Trump back for season 43, Alec Baldwin did confirm that he is set to appear on the season premiere in a recent interview on The Ellen DeGeneres Show.
"The season premiere is Sept. 30," Baldwin, who holds a supporting actor Emmy nomination for his performance, told DeGeneres. (via Entertainment Weekly) "I'm going to do that. I'm going to do a couple of them. We're going to do it until... never mind." 
Baldwin had previously said that he wanted to stop playing Trump because the president "remains bitter and angry" after the election. "The maliciousness of this White House has people very worried," he said. "That's why I'm not going to do it much longer, the impersonation. I don't [know] how much more people can take it."
Still, Baldwin's Trump has been a pretty big boon for the show. Season 42 managed to achieve a kind of cultural relevancy that has eluded it for a long time. Live coast-to-coast broadcasts, which began towards the end of the season and will likely continue through next season as well, helped to push the show to its highest ratings in 24 years, since the heyday of Adam Sandler, David Spade, and Dana Carvey. 
The show also received its most Emmy nominations ever, tying with Westworld for the most nods at the upcoming ceremony. While we still have to wait to learn whether or not Baldwin will take home a win, Melissa McCarthy and Dave Chapelle both already have trophies for their guest stints as hosts on the show.
SNL lost a few of its major cast members after its 42nd season, with Bobby Moynihan, Vanessa Bayer, and Sasheer Zamata making their final appearances on the sketch series. Bayer earned her first Emmy nomination for her work on her final season, while Moynihan's departure left Kenan Thompson, who has been with the show since 2003, as one of the few long-running cast members in the current crop. There's no word on if the show will add new cast members to replace them.
SNL returns for season 43 with Ryan Gosling as the host and Jay-Z as the musical guest on Sept. 30 at 11:30 p.m. on NBC. While we wait, read up on the untold truth of the show.