Alec Baldwin Says He Won't Play Trump On SNL Much Longer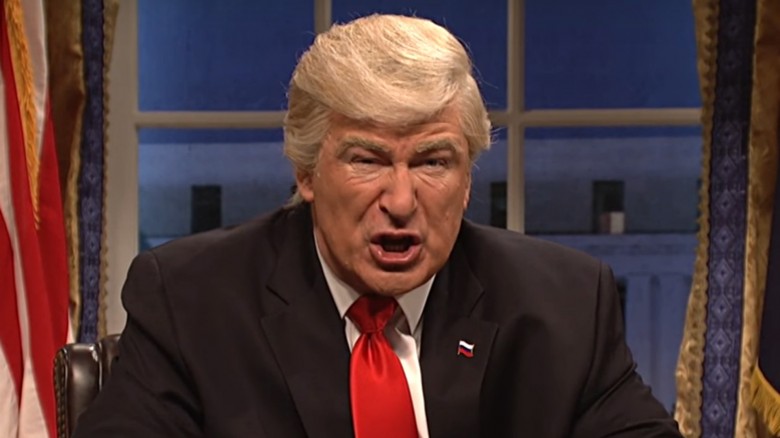 It always seemed a little unrealistic that Alec Baldwin would commit to play Donald Trump on Saturday Night Live every week for four years (or whenever Trump's presidency comes to an end). But now it sounds like Baldwin might soon be ready to pass the wig to someone else.
Baldwin recently told Extra that he plans to stop impersonating Trump on SNL because the president "remains bitter and angry" even after the election, and the lack of "sportsmanship" might take a toll on viewers. Baldwin didn't put a date on his final Trump appearance, but he said (via Entertainment Weekly): "The maliciousness of this White House has people very worried. That's why I'm not going to do it much longer, the impersonation. I don't [know] how much more people can take it."
While the New York Times points out that Baldwin will write an entire satirical memoir from Trump's perspective, we also shouldn't expect to see his Trump impression during the upcoming White House Correspondents' Dinner.
"I don't think it's going to happen," Baldwin said. "I honestly don't think that they want that. I think that for their prestige and their integrity–I think a lot of people are thinking that if Trump himself doesn't come and face the music, as it were, I don't know what kind of program they're going to have... If they wanted me to do it, I would probably do it, but I'm not quite sure they do. I think they might have a whole other idea involved."
We'll have to wait and see if Baldwin shows up for this week's episode featuring Scarlett Johansson. Meanwhile, check out how Trump (unintentionally?) quoted Bane during his inauguration speech, and the untold truth of SNL.