Who Plays The Gardener Nacho In Netflix's 365 Days: This Day?
Brian Dowling/Getty Images
The world was taken by storm with Netflix's steamy "365 Days" in 2020. Perhaps it was a side effect of being early in a stay-at-home order in June, or perhaps people really wanted an erotic thriller set in Italy. Whatever the reason, "365 Days" shot to the top of Netflix's Top 10 almost instantly upon release (via Forbes). So, of course, a sequel followed.
"365 Days: This Day" picks up not long after the close of the first film as protagonist Laura (Anna Maria Sieklucka) marries her captor, gangster Massimo (Michele Morrone). While on the surface, things appear to be going well for the couple, tensions soon build as Massimo becomes consumed and distracted by his nefarious dealings, leaving Laura to find ways to cure her boredom. Enter Nacho, a gardener on Massimo's estate. He's handsome, understanding, and best of all, he's available. So, Laura soon slips into a secret relationship with him. 
While it remains to be seen if "365 Days: This Day" will pass its predecessor's popularity, which would be an impressive feat, many fans are wondering who this seductive new gardener is. Well, we've got the answer.
Simone Susinna plays Nacho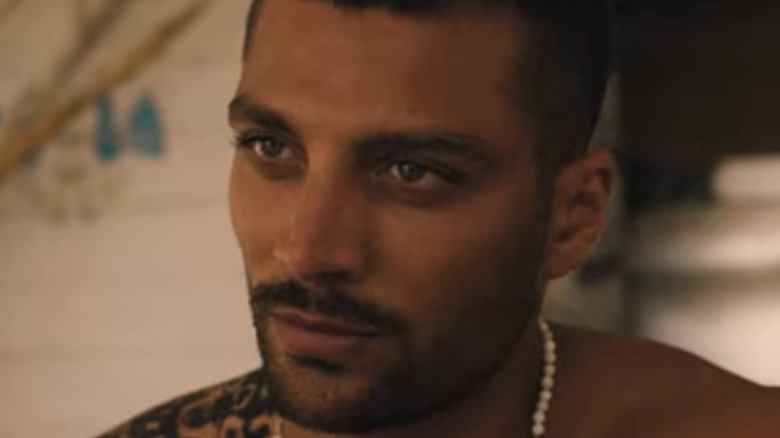 Netflix
The sexy gardener Nacho is played by actor Simone Susinna. He's an Italian actor, and surprisingly, "365 Days: This Day" is his first feature film role. Susinna began making a name for himself in the 2010s as a fashion model. He's worked with Armani in both Milan, Miami, and New York City (via Heroes Models). 
Previously, Susinna appeared on the reality competition series "L'isola dei famosi." The show is the Italian version of the celebrity edition of "Survivor," and has been on air since 2003 (via IMDb). He as a competitor in 2017 during the show's Season 12. In fact, he proved to be popular and became the season's runner-up, only being surpassed by season winner Raz Degan (via Italian Post). On "L'isola dei famosi," Susinna looked surprisingly different, sporting a shaggier beard and longer hair, so you might not recognize him at first glance.
Though Susinna is still very early in his acting career, fans will likely see him again in future "365 Days" installments and other projects soon.