The Training You Didn't Know Cobra Kai's Gianni DeCenzo Had Before The Show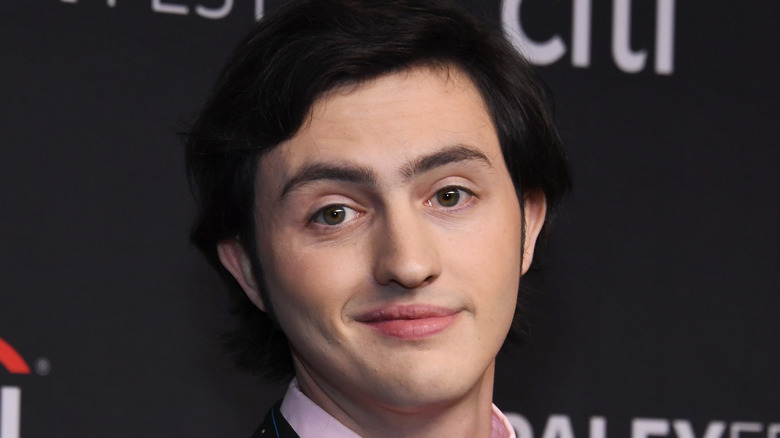 Jon Kopaloff/Getty Images
For many actors, especially stars of action films and TV shows, preparing for a role goes beyond simply learning lines. A prime example is Tom Holland, the leading man of 2017's "Spider-Man: Homecoming" and 2021's "Spider-Man: No Way Home." In an effort to perform the majority of his stunts, Holland completed regular CrossFit-style workouts and underwent combat training, all while packing on 14 pounds of muscle (via Insider).
However, not every actor's training program is quite so strenuous. Gianni DeCenzo, the actor who portrays Demetri Alexopoulos in Netflix's "Cobra Kai," has fully admitted that his pre-production training didn't need to be nearly as extensive as Holland's regime. However, he still put in the time and dedication to ensure a top-notch performance on screen.
Throughout "Cobra Kai," Demetri is fully aware that he's not the most popular kid in school. When he experiences an increase in bullying, he seeks karate lessons from the Cobra Kai Dojo and, later, Miyagi-Do Karate. Here, Daniel LaRusso (Ralph Macchio) slowly but surely teaches Demetri self-defense.
By the end of "Cobra Kai" Season 4, Demetri wins numerous fights against his bullies, including friend-turned-enemy-turned-friend-again Eli "Hawk" Moskowitz (Jacob Bertrand). He has also engaged in several group battles against the students of Cobra Kai.
To ensure these scenes look as accurate as possible, DeCenzo puts in work behind the scenes.
Gianni DeCenzo practices an Israeli fighting technique
On Reddit, in response to a fan question asking about his karate experience prior to "Cobra Kai," Gianni DeCenzo candidly answered, "None whatsoever lol." Still, he was able to bring his character to life by practicing an Israeli military fighting technique called Krav Maga.
In an interview with CheatSheet, DeCenzo said, "It's definitely different from the stuff that they have us do on 'Cobra Kai,' but it has a lot of similar kicks and punches, so it does help in that sense." Unlike Tom Holland, DeCenzo isn't determined to bulk up. Still, it's not out of the question. "In general, I just try to stay in shape. I always tell myself next season I'll get shredded, so hey, who knows? Maybe Season 6, fingers crossed."
Early in the series, when Demetri first began to practice karate, DeCenzo admitted that learning all of the moves was a challenge. Yet after four seasons of increasingly difficult fight scenes, not to mention his off-screen Krav Maga training, he feels more comfortable and confident in his abilities. He told CheatSheet, "It can be a hectic schedule, but I felt a bit more prepared in later seasons, which thank God."
Despite the fact that his character is on a steady path to karate success, practicing this particular martial art is actually still on DeCenzo's to-do list. He said on Reddit, "I really do wanna take karate lessons, though maybe not something as aggressive as Cobra Kai lol." If DeCenzo does add karate to his schedule, Demetri might have to bring some fresh techniques to the forthcoming fifth season of "Cobra Kai."