Why Orly Bremer From Mr. Mayor Looks So Familiar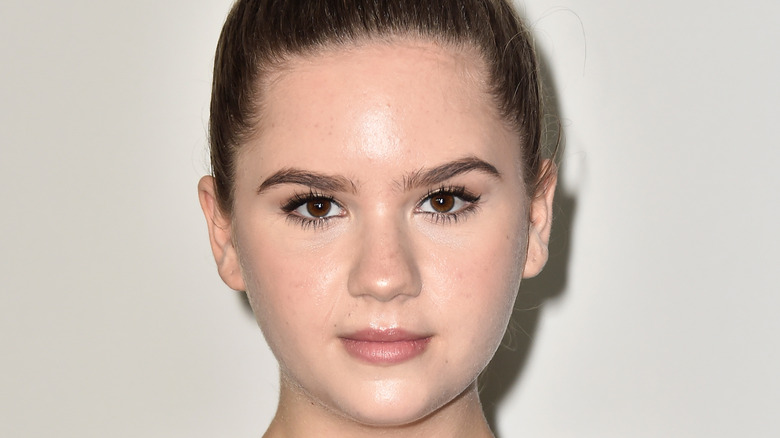 Frazer Harrison/Getty Images
NBC's "Mr. Mayor" has a lot to offer for comedy fans. There are great performances from actors such as Ted Danson — who plays the titular figure — as well as Holly Hunter as Arpi, the deputy mayor, and Bobby Moynihan as the klutzy Jayden, alongside guest appearances by the likes of Missi Pyle and Beau Bridges. However, the show — created by Robert Carlock and Tina Fey — also spotlights many up-and-coming talents. Mike Cabellon delivers a hilarious turn as Tommy Tomas, the mayor's chief strategist, and Vella Lovell is equally gripping as chief of staff Mikaela Shaw. 
Then there is Orly Bremer, the daughter of Danson's starring character, Neil Bremer. She's the reason Danson runs for mayor of Los Angeles in the first place, but she quickly turns against his appointment to the office while running for her own place in her high school's student government. While not the focus, Orly's attention-grabbing antics are a highlight of the show. If you're wondering where you might have seen the actor playing Orly before, we've got your answer.
Kyla Kenedy's debut on The Walking Dead
Orly Bremer is played to perfection by Kyla Kenedy, who is already a television industry veteran, even at such a young age. After a series of small appearances in films and television, Kenedy's first major role came on AMC's "The Walking Dead." 
On the zombie series, she played Mika Samuels, a recurring character appearing in Seasons 4 and 5 (via IMDb). Mika was the daughter of Ryan Samuels (Victor McCay) and sister of Lizzie (Brighton Sharbino), all of whom eventually succumb to the virus. The role, while only requiring her to appear in six episodes, allowed Kenedy to showcase her dramatic chops as a young girl trapped in a world turned upside down. It also called for her to utilize firearms and prosthetic makeup. 
On the show, Mika and Lizzie are taken under the wing of Carol Peletier (Melissa McBride) after the death of their parents. Throughout season 4, Mika proves to be capable of holding her own against zombies, particularly walkers. However, her story ends tragically with her sister murdering her in a twisted attempt to prove to Carol that walkers aren't dangerous. That episode, "The Grove," remains one of the most talked about and highly rated of the series, boasting a 9.2/10 on IMDb. 
Kyla Kenedy moved into comedy with Speechless
Kyla Kenedy was a regular cast member of the ABC series "Speechless," starring Minnie Driver. The comedy followed the mishaps of the family of a special needs teen named JJ DiMeo (played by Micah Fowler), with Kenedy in the role of his sister Dylan. Though the show only lasted for three seasons between 2016 and 2019, it allowed Kenedy to begin flexing her comedic skills, which would later come into play on "Mr. Mayor." While only a supporting ensemble role, the show still gave Kenedy some hilarious moments like sneaking bites of a cheese ball or facing the music of her broken promises.
"Speechless" was notable for casting an disabled actor in a lead role, something which still remains a rarity in Hollywood, according to The New York Times. The show received glowing critical reviews and pretty enthusiastic audience notes on Rotten Tomatoes, to boot. Unfortunately low ratings ultimately found the show cancelled not long after wrapping its third season (via Deadline). 
Luckily for Kenedy and her audience, she found a place in the cast of "Mr. Mayor" less than two years after the ending of "Speechless," where she's been able to deliver great moments week after week.