Why Benedict Cumberbatch Initially Didn't Want To Play Doctor Strange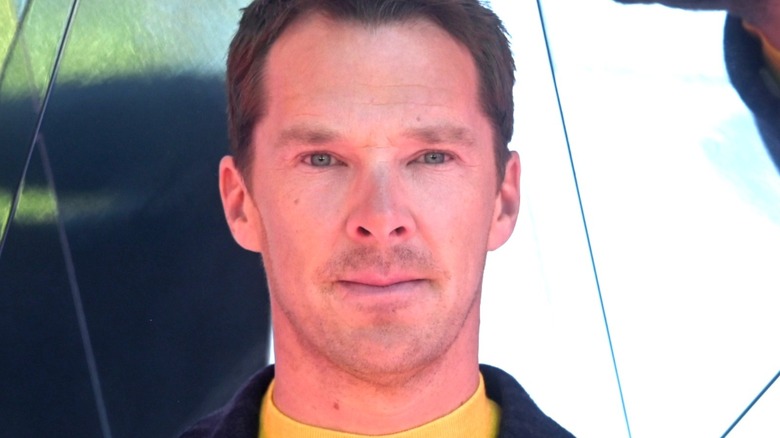 Dave J Hogan/Getty
In 2016, Stephen Strange (Benedict Cumberbatch) made his long-awaited Marvel Cinematic Universe debut in "Doctor Strange," a film that detailed his transformation from being an injured former surgeon to becoming a master of the mystic arts. In the years since his debut, Strange has emerged as one of the most powerful, formidable, and popular heroes in the entire MCU. Films like "Avengers: Infinity War" and "Spider-Man: No Way Home" proved that he could hold his own opposite some of Marvel's biggest superheroes, and this year, Strange is getting the opportunity to lead his own adventure again in "Doctor Strange in the Multiverse of Madness."
As Doctor Strange, Benedict Cumberbatch has also risen to become one of the most recognizable faces of the MCU. However, fans of both Cumberbatch and his MCU character may be surprised to learn that the actor wasn't immediately interested in becoming Doctor Strange when Marvel first approached him about playing the iconic sorcerer. As a matter of fact, Cumberbatch even voiced some of his concerns about the character during his initial conversations with Marvel.
Benedict Cumberbatch initially thought Doctor Strange was an outdated character
In anticipation of the release of "Doctor Strange in the Multiverse of Madness," Benedict Cumberbatch discussed some of his past, MCU-related experiences in an interview with BBC Radio 1. During the interview, Cumberbatch spoke openly about the process and discussions that took place after he was initially approached to play the role of Doctor Strange. According to Cumberbatch, Marvel Studios reached out about the opportunity through his representatives, which motivated him to begin seeking out some of the original "Doctor Strange" comic books. At first, Cumberbatch wasn't totally won over by what he read.
"I sort of read the comics and went, 'Yikes!' Because he's quite old school, a bit of a misogynist, very bound in the '70s ... I thought, 'It's a bit cornball, it's a bit hackneyed ... I don't get it,'" Cumberbatch admitted. In response to his concerns about the character, Marvel assured Cumberbatch that it was planning on updating the character's attitude and personality for contemporary audiences. The studio also told Cumberbatch that it intended to keep many of the character's interesting flaws — namely, his arrogance and selfishness.
"They went, 'It would be [made for] today. [He] would be very much a man of today. Yes, with some of those qualities, but like a man of today would have those qualities, where he think he's the bee's knees. Because he has to have that arrogance,'" Cumberbatch recalled. The actor went on to reveal that the studio's response to his concerns, as well as the quality of the script that was written for 2016's "Doctor Strange," were what convinced him to take on the role. 
The rest is, as they say, history.