The Only Episode Of Bones To Be Directed By Emily Deschanel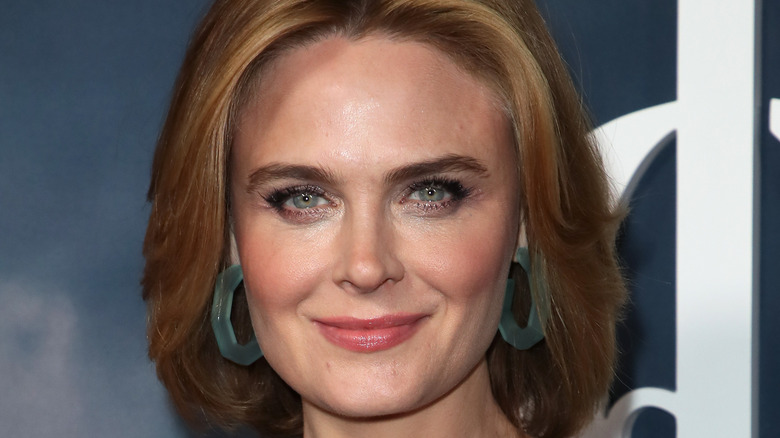 David Livingston/Getty Images
In 2005, Fox premiered the procedural drama "Bones," which added something refreshingly unique to the genre, emphasizing forensic anthropology and archaeology. The series focuses on a team of forensic anthropologists headed by Dr. Temperance "Bones" Brennan (Emily Deschanel) and their efforts to assist FBI Agent Seeley Booth (David Boreanaz) in various federal cases. With its intriguing investigations and undeniable chemistry between Brennan and Booth, the show became a hit, producing 12 seasons and nearly 250 episodes.
With that many episodes to its credit, it makes sense that "Bones" had a plethora of different folks sit behind the director's chair throughout its run. After all, it takes a team to tackle that many installments. However, it's a bit surprising when we take a moment to delve in and reflect on just who had a hand in directing the series from time to time. Boreanaz directed 11 episodes of the series. And Deschanel's cinematographer and director father, Caleb Deschanel, got the chance to direct an episode in Season 2. Yet, not to be left out of the director's party with Boreanaz and her father, Deschanel herself also directed just one episode of "Bones."
The Bones star directed an episode for the final season
Emily Deschanel's directorial debut happened arguably during one of the series' biggest episodes. She directed the premiere episode of the final season, titled "The Hope in the Horror." And it doesn't waste any time hooking in fans. In the episode, Brennan is kidnapped by her former assistant Zach Addy (Eric Millegan), who is trying to protect her from a serial killer while also unraveling a mystery about himself. Meanwhile, Brennan's team and Booth desperately search for her. As one would hope for with a season premiere, the episode raises way more questions than answers. The episode was well-received by fans, as it currently holds an 8.7 rating on IMDb.
It's strange that Deschanel's first-time directing came so late in the series' life. However, that wasn't initially the plan, as she was supposed to direct an episode much earlier. Originally, Deschanel was slated to direct an episode of "Bones" during Season 6. However, she couldn't due to scheduling conflicts (via Give Me My Remote). So far, the episode also remains the actor's only directing credit. But as she said in an interview with The Hollywood Reporter, Deschanel would welcome another directing opportunity if it was the right timing and project.