Christian Bale Completely Unrecognizable As He Prepares To Play Dick Cheney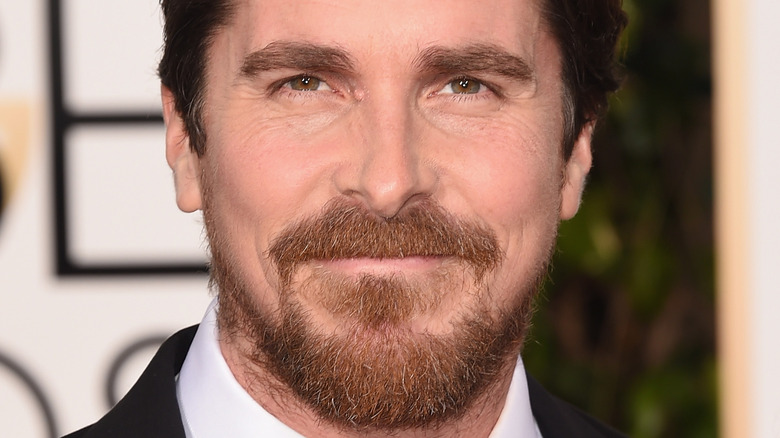 Getty Images
Christian Bale is packing on the pounds to play a powerful former VP. 
During the Toronto International Film Festival this week, Bale sat down with Variety Studio presented by AT&T to discuss his drastic physical transformation from the trim actor we're all familiar with to the soft-around-the-middle Dick Cheney, a role he's taking on for the upcoming biopic Cheney. 
The outlet provided a clip of Bale looking completely unrecognizable as he explains what he's been doing to develop the distinctly Cheney-like body type. "I've just been eating a lot of pies," the actor said of his weight gain tactics. 
Beyond his chubbier physicality, Bale is also seen sporting what appears to be bleached eyebrows and a noticeably lighter mustache-goatee combination. You can take a look at the 10-second video at the bottom of this article. 
Joining Bale in Cheney is Sam Rockwell as Cheney's boss, President George W. Bush, who served as the 43rd Commander in Chief of the U.S. from 2001 to 2009. Amy Adams will play Cheney's wife Lynne, with Steve Carell on board to play Secretary of Defense Donald Rumsfeld and Bill Pullman attached for Nelson Rockefeller, the former 49th Governor of New York and the 41st Vice President of the United States, who served under President Gerald Ford from 1974 to 1977. Cheney brings together Adams and Bale once again, as the pair previously worked on American Hustle with Jennifer Lawrence. 
Directed by Adam McKay, Cheney will chronicle Cheney's meteoric rise to authority in the aftermath of 9/11, using the events to prove his skill and his status as Bush's equal and exercise his personal power in the fight against terrorism in the United States. The film will also center around Cheney's journey to becoming the CEO of the multinational corporation Halliburton, and how he became what many have noted as the most formidable U.S. vice president ever to hold office.
Filming on Cheney was reported to begin sometime this month, but Variety indicates that production hasn't started just yet. Director McKay and his Gary Sanchez Productions partners Will Ferrell and Kevin Messick will produce the film, with Brad Pitt and Dede Garner on board to produce the project via their Plan B label.
This certainly isn't the first time Bale has undergone some seriously shocking body transformations. In the past, the actor shed a whopping 65 pounds for his starring role in The Machinist, a staggering weight loss he achieved by eating a single apple, a can of tuna, and a ton of black coffee per day. Not long thereafter, Bale regained the weight and added to his frame a ton of muscle to play Batman in Christopher Nolan's film trilogy. 
Until we know more about Cheney, and while we wait to see what Bale will look like in his full Dick Cheney glory, check out the movies that caused serious damage to actors' bodies. 
Christian Bale says he's been eating "lots of pies" to look like former VP Dick Cheney for upcoming film #VarietyStudio presented by @att pic.twitter.com/kc6jxINLZZ

— Variety (@Variety) September 12, 2017