Whatever Happened To Rowena From Supernatural?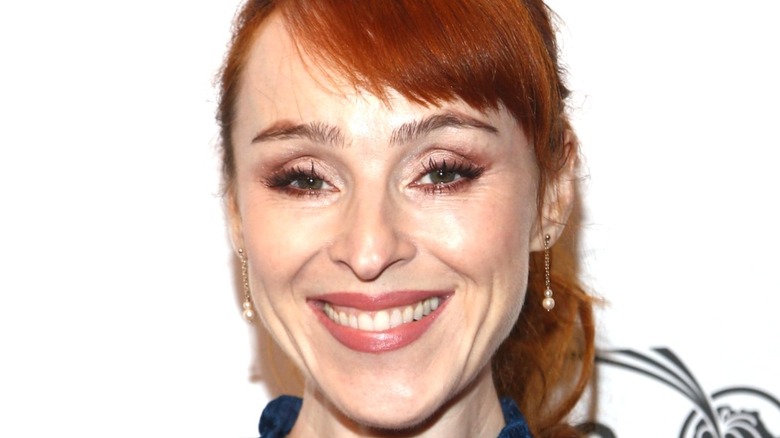 Tommaso Boddi/Getty
The CW series "Supernatural" followed the adventures of paranormal fighting brothers Sam and Dean Winchester (Jared Padalecki and Jensen Ackles, respectively). The series ran for an astounding 15 seasons from 2005 to 2020, with an impressive supporting cast that featured actors like Jeffery Dean Morgan, Jim Beaver, and more along for the 1967 Impala-driven ride. 
In Season 10, viewers were introduced to Rowena. Rowena was a conniving witch with a demonic son and a knack for reanimating her lifeless body. She also formed alliances with and backstabbed Lucifer (Mark Pellegrino) himself, so you might just say she had some spite in her. Rowena continued to magically appear and sometimes torment, sometimes assist the Winchester brothers all the way through the final season in 2020. 
Rowena was played by Scottish actor Ruth Connell, but since the end of the "Supernatural" a few years ago, what has the actor been up to?
Ruth Connell joined the world of DC Comics
After "Supernatural" ended in 2019, Ruth Connell transitioned into a surprisingly similar role. Connell made a guest appearance on the HBO Max/DC show "Doom Patrol" in Season 3, Episode 3 (via IMDb). In the episode titled "Dead Patrol," the titular group of D-list superheroes, comprised of the likes of Elasti-Girl (April Bowlby), Robotman (Brendan Fraser), Negative Man (Matt Bomer), Crazy Jane (Diane Guerrero), and the one true A-lister, Cyborg (Jovian Wade), are forced to fight their way out of the afterlife with the help of the Dead Boy Detectives. 
One of the villains Doom Patrol and Dead Boy Detectives face on the journey back to the land of the living is the Night Nurse. Played by Connell, the Night Nurse guards the tunnel of souls and assists death itself in its undertakings. Though Connell's appearance was relegated to only a single scene in the episode, that's far from the end of her involvement in the role. The Dead Boy Detectives are currently having their own series developed for HBO Max. According to a report from Variety, the eight-episode season will see Connell reprise her villainous role as the Night Nurse.