The Iconic DC Villain You Likely Didn't Realize Was Played By The Big Bang Theory's Melissa Rauch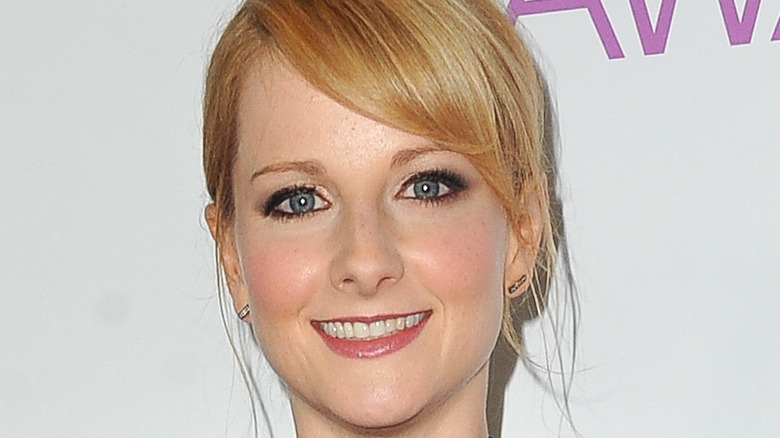 Allen Berezovsky/Getty Images
On "The Big Bang Theory," Melissa Rauch played Bernadette Rostenkowski, the short, snarky, yet naive microbiologist girlfriend/eventual wife of Howard Wolowitz (Simon Helberg). Her first appearance comes in Season 3 of the show, and she soon becomes a regular face on the sitcom. 
Bernadette is arguably Rauch's biggest role, one that garnered her many fans and a lot of praise through the years, but that doesn't mean she doesn't have any other notable projects under her belt. She's appeared on other series like "True Blood," and popped up in films like "The Laundromat," "Ode to Joy," and "Ice Age 5: Collision Course" (via IMDb). Rauch also gave a hilarious star performance in 2015's "The Bronze," where she played Hope Anne Gregory, a former Olympic medalist who is roped into training an up-and-coming gymnast, threatening her status as a small-town hero.
With all those roles and others, some will naturally go overlooked. However, Rauch once took up the mantel of a hugely popular DC Comics character, though most people might not remember it.
Melissa Rauch voiced Harley Quinn
In 2017, Melissa Rauch's foray into voice acting came with a pretty big-name role: Harley Quinn. For the animated film "Batman and Harley Quinn," Rauch acted alongside Kevin Conroy as Batman, Loren Lester as Nightwing, and Paget Brewster as Poison Ivy (via IMDb). 
The film was released in theaters by Fathom Events for a single-night showing in August 2017 and is now available to stream on HBO Max. The adventure follows Batman and Nightwing as they're forced to team up with Harley Quinn to take down rogue villains Poison Ivy and Floronic Man. The movie served as both a standalone adventure and a spiritual successor to the acclaimed "Batman: The Animated Series," which featured the first-ever appearance of Harley Quinn in Season 1, Episode 7, "Joker's Favor," as noted by The Hollywood Reporter. The Rauch-starring film has the same animation style as the series, and Conroy voices Batman in both iterations (via IMDb).
Rauch's turn as the on-again/off-again girlfriend of the Joker puts her in the company of some Hollywood heavyweights. Arleen Sorkin voiced the villain on "Batman: The Animated Series." Margot Robbie portrays the character in DC's live-action films like "The Suicide Squad" and her first solo outing "Birds of Prey." Rauch's own "The Big Bang Theory" co-star Kaley Cuoco has voiced Harley Quinn for the eponymous animated television series since 2019.