Andrew Garfield Weighs In On The Future Of His Version Of Spider-Man In The MCU - Exclusive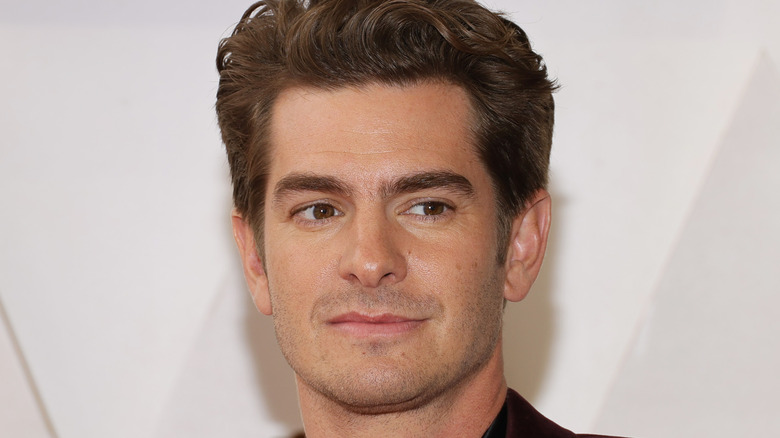 Mike Coppola/Getty Images
The past year has been amazing for Andrew Garfield. Currently winning raves for his role in the true crime thriller "FX's Under the Banner of Heaven" on Hulu, Garfield's first project of 2021 saw him starring as televangelist Jim Bakker in the acclaimed biopic "The Eyes of Tammy Faye," which eventually earned his co-star Jessica Chastain a best actress Oscar. Garfield got some Oscar love of his own, though, as he followed up "The Eyes of Tammy Faye" with his best actor Oscar-nominated role as "Rent" creator Jonathan Larson in the emotional musical biopic "tick, tick ... BOOM!"
Garfield's 2021 ended with a bang with the return of his version of Peter Parker-Spider-Man in "Spider-Man: No Way Home," an inventive Marvel Cinematic Universe film set in the multiverse starring Tom Holland as Spidey. Garfield, who starred in director Marc Webb's "The Amazing Spider-Man" films from 2012-2014, was not only joined by the original Spider-Man, Tobey Maguire, from director Sam Raimi's 2002-2007 "Spider-Man" trilogy, but also the key villains from both of their film series. Forming the ultimate power trio, Holland, Maguire, and Garfield did battle with the Green Goblin (Willem Dafoe), Doc Ock (Alfred Molina), and Sandman (Thomas Haden Church) from the original "Spider-Man" trilogy as well as the Lizard (Rhys Ifans) and Electro (Jamie Foxx) from "The Amazing Spider-Man" films.
Thanks to the worldwide blockbuster success of "Spider-Man: No Way Home" — which set the stage for the new MCU film "Doctor Strange in the Multiverse of Madness" — the windows of opportunity are wide open for Maguire and Garfield to return in future MCU Multiverse installments. The question remains, however, whether Garfield is interested in reprising his version of Peter Parker and Spider-Man again.
Garfield says all versions of Spider-Man 'will live' whether they return on film
In an exclusive interview about his role as a detective investigating a brutal double murder in "FX's Under the Banner of Heaven," Andrew Garfield told Looper that he loved "Spider-Man: No Way Home." And while the film appeared to bring Maguire's and Garfield's Spider-Man stories full circle, is he game to suit up as Spidey again should the opportunity present itself? The short answer is he seems unsure, but he's certainly thrilled with how "No Way Home" turned out, which is a positive sign.
"I love what Jon Watts did with 'No Way Home.' He deserves some prize for bringing all those different story narratives into one cohesive thing that felt joyful and creative and fun," Garfield enthused. "Each Peter's multiverse story goes on. Tobey's living his life in his universe. I'm living my life in my universe, and Tom will carry on in his. Whether or not they're on film is another question, but they will live. Maybe when we're in our 70s, they'll do another kind of crossover! That would be funny."
As for his version of Spider-Man returning in the near future, Garfield added, "My honest answer is I don't know, but I'm grateful to be a part of that particular film ["No Way Home"]. I thought it was great."
Also starring Gil Birmingham, Daisy Edgar-Jones, Sam Worthington, Wyatt Russell, and Rory Culkin, "FX's Under the Banner of Heaven" is streaming exclusively on Hulu. New episodes of the limited series will premiere every Thursday through June 2.