Andrew Garfield And Gil Birmingham On Under The Banner Of Heaven And Spider-Man's Future - Exclusive Interview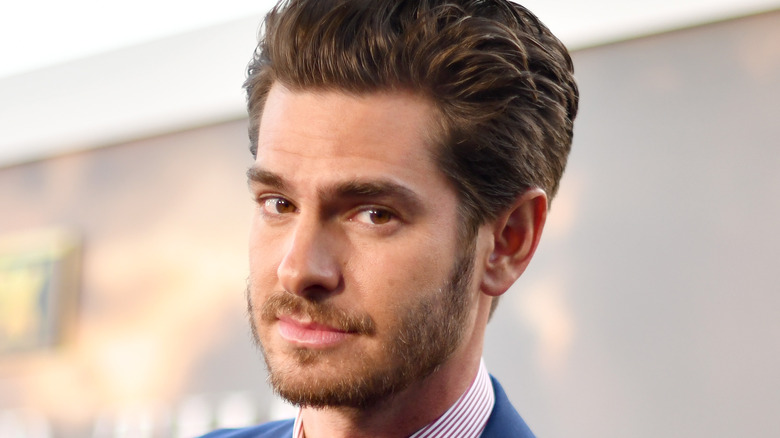 Jerod Harris/Getty Images
After scaling new heights in his triumphant return as Peter Parker/Spider-Man in the worldwide box office blockbuster "Spider-Man: No Way Home," Andrew Garfield has come back down to earth with a new role that is grounded in the cruel realities of life.
New on FX and Hulu, the limited series "Under the Banner of Heaven" stars Garfield as Jeb Pyre, a Salt Lake Valley, Utah detective investigating the brutal murders of Brenda Lafferty (Daisy Edgar-Jones) and her baby daughter in a case that implies the involvement of some of the devout members of the young mother's Mormon faith. Gil Birmingham also stars as Garfield's detective partner, Bill Taba, as an outsider in the Latter-day Saints community who serves as a voice of reason to Jeb, since he appears unwilling to accept the circumstances of the case as a devout LDS member. As the investigation into potential suspects deepens and centuries-old secrets of the LDS religion are revealed, Jeb's faith begins to waver as he gets closer to the truth of who committed the heinous double-murder.
Adapted for the screen by "Milk" Oscar-winning screenwriter Dustin Lance Black, the limited series is based on author Jon Krakauer's best-selling 2003 true-crime novel "Under the Banner of Heaven: A Story of Violent Faith." In an exclusive interview with Looper, Garfield — whose credits in the last year alone include "No Way Home," "The Eyes of Tammy Faye" (as televangelist Jim Bakker) and "tick, tick ... BOOM!" (in his Oscar-nominated role as "Rent" creator Jonathan Larson) — discusses his fascination with the material, as well as thoughts for the future of his version of Spider-Man.
In addition, Birmingham, the prolific actor whose credits include "Yellowstone," "Hell or High Water," "Wind River," and the "Twilight" saga, reveals why he wanted to join "Under the Banner of Heaven" and reacts to an idea that would reunite him on-screen with Garfield.
Under the Banner gave Garfield a chance to explore the crime thriller genre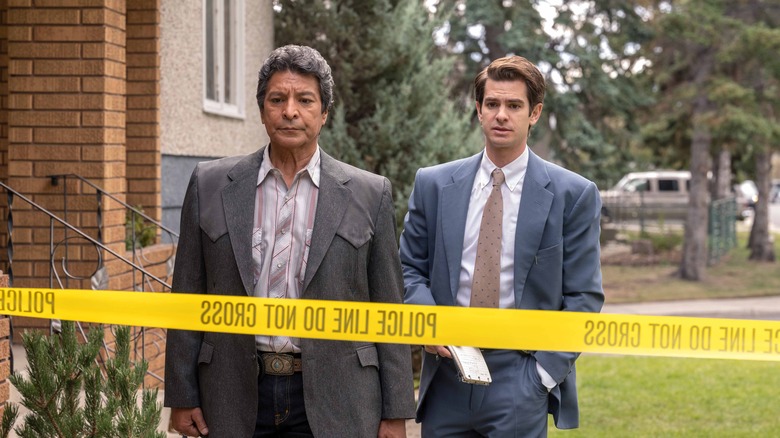 FX Television
Andrew, first of all, congratulations on the success of "tick, tick...BOOM!" and "Spider-Man: No Way Home," and I have to go back to one of my favorite films of the last decade, "Hacksaw Ridge" — all three done in decidedly different genres. Now, you're in the crime thriller genre with "Under the Banner of Heaven." Was it a move by design or is it by happenstance? Did you do it because you wanted to play in that genre since you haven't before or did it simply boil down to a great script?
Andrew Garfield: A little bit of both — and thank you so much. I loved the Jon Krakauer book, when it first came out. I read it and ate it up. Like everyone else, I was wondering, "Oh, someone's going to be turning this into a film or a TV show and I wonder how." Cut to ten years or so later, and Dustin Lance Black says, "Hey, I've adapted 'Under the Banner of Heaven.' I've been working on it for ten years and I have some scripts I want to show you." It's like, "Oh my gosh" ... [I was] immediately interested because I love the subject matter so much and I love Dustin, and it quickly became a no-brainer.
Part of the attraction, absolutely, was that it was very different, a genre that I've never done. A genre that I love. I love watching. I'm curious to see how I would feel being a part of it. Also, the character is a much more internal stoic kind of human being than I've been playing in the last ... He's pretty far from a televangelist or a flamboyant musical theater writer or an angsty superhero. [He's] a very internal, solid, ordinary, centered dude — a father, a husband and a cop, and a Mormon. It's fun to stretch in that way.
The series sparked Birmingham's interest because of similarities to his personal history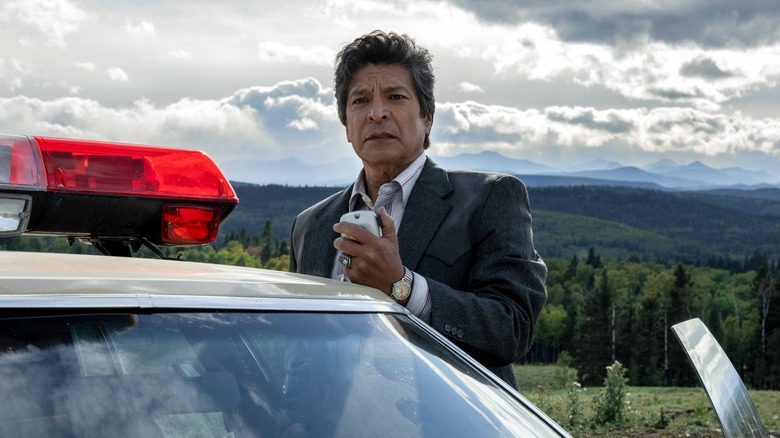 FX Television
Gil, you have been in a crime thriller genre before, and I have to point out "Hell or High Water," which is another one of my favorite films of the last decade. What was the particular element about "Under the Banner of Heaven" that made you want to jump back into that genre?
Birmingham: The job offer. [Laughs]
That always helps! [Laughs]
Birmingham: Yeah, it's nice to work. It intrigued me because I've come, personally, from a background, on one side of my family, a religious family. On the other side of it [was] my father being in law enforcement. I've always been intrigued by the notion of life philosophy, spirituality. This was particularly intense and a breakdown of what these belief systems can do and how they evolve, and how they affect the lives of a community — sometimes positive — [but] in this particular case, in a negative way. [This was about] the mindset of what's going on that a human being can take a division in a road like that and commit a heinous crime like they did.
Can Garfield's Amazing Spider-Man go home again?
Andrew, I love what happened with your version of Spider-Man in "No Way Home." Do you feel like the film has completed the arc of your Spider-Man or if it hasn't, which direction would you like to see the character go?
Garfield: I don't know. Thank you for that, and I love it too. I love what Jon Watts did with "No Way Home." He deserves some prize for bringing all those different story narratives into one cohesive thing that felt joyful and creative and fun. Each Peter's multiverse story goes on. Tobey's living his life in his universe. I'm living my life in my universe, and Tom will carry on in his. Whether or not they're on film is another question, but they will live. Maybe when we're in our 70s, they'll do another kind of crossover! That would be funny. My honest answer is I don't know, but I'm grateful to be a part of that particular film. I thought it was great.
Well, I think the ultimate would be having Gil becoming part of your universe.
Birmingham: Yes! [doing a fist-pump]
I love you guys together. You have a great balance— 
Garfield: Playing Spider-Gil! [Laughs]
Birmingham: Thank you! [Laughs]
Also starring Sam Worthington, Wyatt Russell, Adelaide Clemens, Billy Howle and Rory Culkin, "Under the Banner of Heaven" debuts of FX and Hulu with two episodes on Thursday, April 28. New episodes of the limited series will premiere every Thursday through June 2.
This interview was edited for clarity.