Stranger Things And Westworld Win Big At Creative Arts Emmys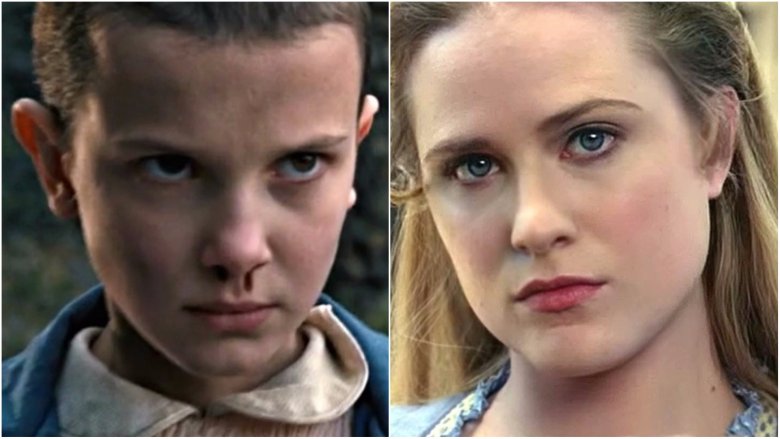 Netflix/HBO
The Primetime Emmys aren't for another week, but Stranger Things and Westworld have already jumped out to a huge start.
The Creative Arts Emmys were given out over the weekend, and the first-year shows both racked up five wins. We've got a complete list of winners below.
Stranger Things won the Emmy for best casting for a drama series, which Variety points out is often a precursor for program wins at the televised ceremony. The Netflix series also won for best theme music, main title design, sound editing for a series, and single-camera picture editing for a drama.
HBO's Westworld won for best visual effects, sound mixing, interactive programming, hairstyling, and makeup.
Elsewhere, Alexis Bledel took the award for best guest actress in a drama series for Hulu's The Handmaid's Tale, the Netflix Marvel series Luke Cage won for stunt coordination, Gotham won for special visual effects in a supporting role, and American Horror Story: Roanoke took the honor for best prosthetic makeup. Melissa McCarthy and Dave Chappelle also won for their appearances on Saturday Night Live.
Overall, HBO received the most wins with 19, Netflix was close behind with 16, and everyone else wasn't even close. NBC received nine awards and ABC brought home seven. Take a look at the complete list of winners.
Guest Actor in a Drama Series
Gerald McRaney (This Is Us — "The Big Day")
Guest Actress in a Drama Series
Alexis Bledel (The Handmaid's Tale — "Late")
Guest Actor in a Comedy Series
Dave Chappelle (Saturday Night Live)
Guest Actress in a Comedy Series
Melissa McCarthy (Saturday Night Live)
Actor in a Short Form Comedy or Drama Series
Kim Estes (Dicks)
Actress in a Short Form Comedy or Drama Series
Jane Lynch (Dropping the Soap)
Casting for a Drama Series
Carmen Cuba, Tara Feldstein Bennett & Chase Paris (Stranger Things)
Casting for a Limited Series, Movie or Special 
David Rubin (Big Little Lies)
Casting for a Comedy Series
Dorian Frankel & Sibby Kirchgessner (Veep)
Cinematography for a Single-Camera Series (Half-Hour)
David Miller (Veep)
Cinematography for a Single-Camera Series (One Hour)
Colin Watkinson (The Handmaid's Tale)
Cinematography for a Multi-Camera Series
Donald A. Morgan (The Ranch)
Cinematography for a Limited Series or Movie
Fred Elmes (The Night Of)
Music Composition For A Series (Original Dramatic Score)
Jeff Beal (House of Cards — "Chapter 63")
Music Composition for a Limited Series, Movie, or Special (Original Dramatic Score)
Jeff Russo (Fargo — "Aporia")
Original Main Title Theme Music
Michael Stein, Kyle Dixon (Stranger Things)
Single-Camera Picture Editing for a Comedy Series 
Jennifer Lilly (Master of None)
Multi-Camera Picture Editing for a Comedy Series
Peter Chakos (The Big Bang Theory)
Stunt Coordination For a Drama Series, Limited Series or Movie
James Lew (Luke Cage)
Period/ Fantasy Costumes for a Series, Limited Series or Movie
Michele Clapton, Alex Fordham, Emma O'Loughlin & Kate O'Farrell (The Crown)
Production Design for a Narrative Period Program (One Hour or More)
Martin Childs, Mark Raggett & Celia Bobak (The Crown)
Music Composition for a Limited Series, Movie, or Special (Original Dramatic Score)
Jeff Russo (Fargo — "Aporia")
Children's Program
Once Upon a Sesame Street Christmas (HBO)
Production Design for a Narrative Program (Half-Hour or Less)
Jim Gloster, Andrew Leitch & Kimberly Wannop (Veep)
Production Design for a Narrative Contemporary or Fantasy Program (One Hour or More)
Julie Berghoff, Evan Webber & Sophie Neudorfer (The Handmaid's Tale)
Sound Mixing for a Comedy or Drama Series (One Hour)
Keith Rogers, Scott Weber, Roger Stevenson, Kyle O'Neal (Westworld — "The Bicameral Mind")
Stunt Coordination for a Comedy Series or Variety Program
Eddie Perez (Shameless)
Creative Achievement in Interactive Media Within a Scripted Program 
HBO, Kilter Films & Bad Robot (Westworld)
Commercial 
John X Hannes & Smuggler ("Calling JohnMalkovich.com" – Squarespace)
Special Visual Effects
Jay Worth, Elizabeth Castro, Joe Wehmeyer, Eric Levin-Hatz, Bobo Skipper, Gustav Ahren, Paul Ghezzo, Mitchell S. Drain, Michael Lantieri (Westworld — "The Bicameral Mind")
Special Visual Effects in a Supporting Role 
Thomas Mahoney, Matthew Wheelon Hunt, Alex Gitler, Sina San, Michael Capton, Jon Anastasiades, Ryan Bauer, Mark Anthony Nazal, Randy Little (Gotham — "Heavydirtysoul")
Hairstyling for a Limited Series or Movie
Chris Clark, Ralph Michael Abalos, Wendy Southard & Helena Cepeda (Feud: Bette & Joan)
Music Supervision
Susan Jacobs (Big Little Lies — "You Get What You Need")
Sound Editing for a Series
Bradley North, Craig Henighan, Jordan Wilby, Jonathan Golodner, Tiffany S. Griffth, Sam Munoz, Sam Munoz, David Klotz, Noel Vought & Ginger Geary (Stranger Things)
Sound Mixing For a Comedy Or Drama Series (Half-Hour) and Animation
Andy D'Addario, Gary Gegan, Marco Fiumara (Mozart in the Jungle — "Now I Will Sing")
Sound Editing for a Limited Series, Movie or Special
Nicholas Renbeck, Marissa Littlefield, Steve Visscher, Ruth Hernandez, Sara Stern, Luciano Vignola, Odin Benitez, Ruy Garcia, Wyatt Sprague, Warren Shaw, Roland Vajs, Heather Gross, Dan Evans Farkas, Grant Conway & Marko Costanzo (The Night Of)
Prosthetic Makeup for a Series, Limited Series, Movie, or Special
Eryn Krueger Mekash, Michael Mekash, David Leroy Anderson, James Mackinnon, Jason Hamer, Melanie Eichner, Cristina Himiob,  Maiko Chiba (American Horror Story: Roanoke)
Sound Mixing For A Limited Series or Movie
Nicholas Renbeck, Michael Barry, Felix Andrew, Larry Hoff (The Night Of — "The Beach")
Short Form Comedy or Drama Series
"Los Pollos Hermanos Employee Training": Better Call Saul (AMC)
Hairstyling for a Single-Camera Series
Joey Zapata, Pavy Olivarez, Bruce Samia & Donna Anderson (Westworld)
Main Title Design
Michelle Dougherty, Peter Frankfurt, Arisu Kashiwagi, Eric Demeusy (Stranger Things)
Contemporary Costumes for a Series, Limited Series or Movie
Alix Friedberg, Risa Garcia & Patricia McLaughlin (Big Little Lies)
Single-Camera Picture Editing for a Limited Series or Movie
Jay Cassidy & Nick Houy (The Night Of)
Makeup for a Limited Series or Movie (Non-Prosthetic)
Eryn Krueger Mekash, Robin Beauschense, Tym Buacharern, Kim Ayers, Becky Cotton, David Williams (Feud: Bette and Joan)
Single-Camera Picture Editing for a Drama Series
Dean Zimmerman (Stranger Things)
Original Interactive Program
Felix & Paul Studios (The People's House – Inside the White House With Barack and Michelle Obama)
Makeup for a Single-Camera Series (Non-Prosthetic)
Christien Tinsley, Myriam Arougheti, Gerald Quist, Lydia Milars, Ed French ("Westworld" — The Original)