The Best Time Drew Carey Ever Broke Character On The Price Is Right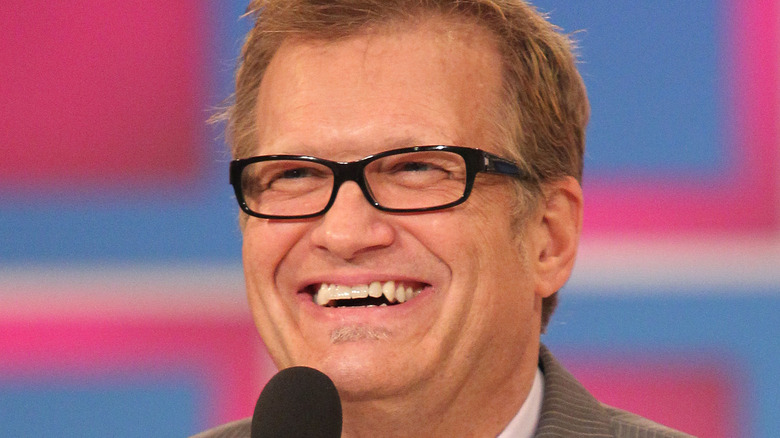 Frederick M. Brown/Getty Images
CBS's "The Price Is Right" is an American game show with a simple premise: correctly guess the price of a thing, and maybe get rewarded with another thing (but don't forget to pay the exorbitant taxes on it, first). There are beautiful models involved, and an aggressively loud live studio audience, just to cover all the bases. The production, which began way back in 1972, was hosted by Bob Barker for 35 years until he retired in 2007 (via IMDb). When Barker stepped down, he bestowed his weirdly shaped microphone to Drew Carey.
Carey, who is best known for his numerous hosting gigs on productions such as "Whose Line Is It Anyway?" and "The Drew Carey Show," has helmed "The Price Is Right" for approximately 15 years now as of the time of this writing. Those familiar with the show will know that Carey's primary function is to charismatically progress the show from contestant to contestant, but some prefer to look back on the moments where the man simply couldn't keep it together. Here's the best moment in which Carey succumbed to the giggles on "The Price Is Right," according to the fans.
Drew Carey lost it when a contestant had no idea how to play the game
In the subreddit r/ContagiousLaughter, u/RDIIIG posted a clip from "The Price is Right" Season 46, Episode 29, where a contestant named Richard needed a little help. In this context, the phrase "a little help" means Drew Carey basically needed to hold this grown man's hand through the entire process and it was hilarious. In the clip, Carey watched in incredulous bemusement as Richard struggled to operate the sliding numbers. He seemingly forgot which numbers were no longer available, too, but Carey gently reminded him. When Richard finally completed his guess, the model revealed that he'd stumbled upon the correct answer. 
Ecstatic, the man hugged Carey — who happily returned the gesture — and erupted into what we can only describe as a spirited Tigger impersonation. Carey tried to wrap up the show with grace but he just couldn't hold it together. The clip ends with the "The Price Is Right" host doubled over, giggling uncontrollably. It feels so genuine, so joyful, that u/RDIIIG clearly picked the correct subreddit for the clip to be posted within.