Thor: Ragnarok Gets A Stunning IMAX Poster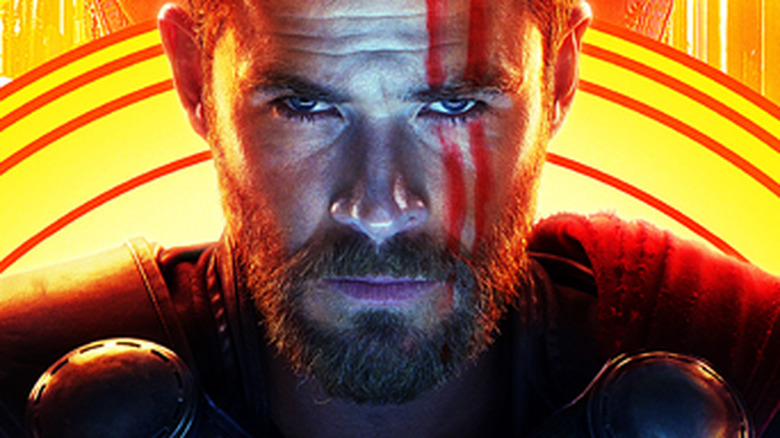 Marvel
Ragnarok is getting brighter by the minute. 
IMAX has unveiled its newest Thor: Ragnarok poster, amping up the film's vibrant color palette and electric cast. As with all of the film's posters released thus far, splashes of bright greens, oranges, and reds cover the image, and this time around, it also features some inventive design choices. 
It also allows for the entire ensemble cast to be featured, positioning each character in an interesting way that still keeps the poster simple. Chris Hemsworth's Thor and Mark Ruffalo's Hulk are in the top tier of the poster, with Cate Blanchett's Hela, Tessa Thompson's Valkyrie, and Tom Hiddleston's Loki sitting below. Underneath them are Anthony Hopkins' Odin, Jeff Goldblum's Grandmaster, and Idris Elba's Heimdall. The clean but creative organization is quite a welcome change from some of Marvel's more muddled promotional materials. 
Take a look at the bottom of this article.
Along with the post reveal came news that IMAX screenings of Thor: Ragnarok will start a day before the film's official release on November 3, for those wanting to catch the blockbuster flick during its Thursday previews. 
With past promo footage like the film's epic San Diego Comic-Con trailer and its recently released set of character posters, Thor: Ragnarok is on track to be the biggest and boldest Thor turn so far. Director Taika Waititi's unique filmmaking perspective, the new technicolor aesthetic, and the inclusion of Ruffalo's Hulk, it has also become fall's most anticipated film. 
While we wait for Thor: Ragnarok to hit theaters on November 3, find out why the movie will be much better than you think.