Stranger Things 2 Will Focus On Hopper's Daughter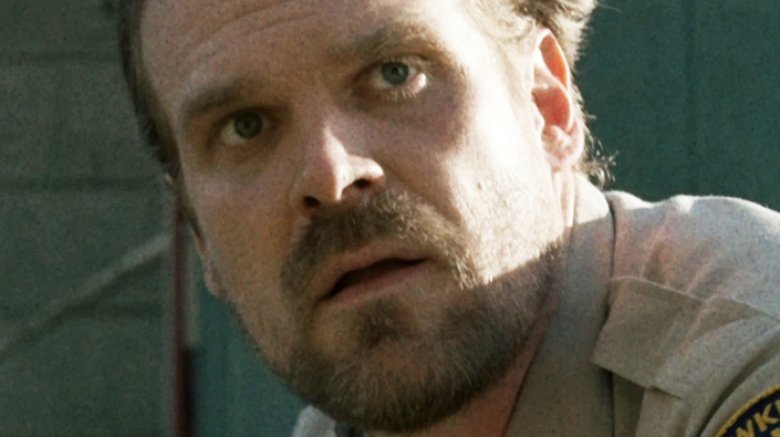 We're not ready for this kind of heartache. According to Stranger Things actor David Harbour, who plays Sheriff Jim Hopper in the acclaimed Netflix series, the show's second season will focus on Hopper's daughter, Sarah (Elle Graham). 
Sheriff Hopper was a central character in the first season and was seen struggling with a dark past. As episodes progressed, viewers gradually learned that a major reason for Hopper's pain and possible alcohol addiction was Sarah's untimely death. Despite receiving innovative treatments and aggressive chemotherapy, she passed away not long after her diagnosis. This tragedy influenced Hopper's life tremendously, and is speculated to be a driving force in his desire to save Will Byers (Noah Schnapp) and find Eleven (Millie Bobby Brown) in the Upside Down, as they too are children facing immediate danger. 
However, the second season of Stranger Things won't exclusively focus on Sarah's passing, but rather the relationship she had with her father and how that motivates his thoughts, feelings, and actions moving forward. 
As Harbour explained to TV Guide, "Hopper's daughter will be the primary focus of season two, but not in the way that you think it will be. Hopper's understanding of that relationship and Hopper's understanding of being a father and of being a man grows deeper and deeper in season two, and we get a lot of time to explore what that is, but it won't be in the literal way that you think it is."
The actor stopped himself short, stating that he didn't want to give any additional information since what plays out in the upcoming season is "good stuff."
Other Stranger Things stars have spoken out about the heightened emotional aspects of the impending second season, as well as the "unpredictable" nature of the storyline and its darker tone. Gaten Mazaratto, who plays Dustin Henderson on the show, explained that the narrative will dive into the lives of the characters and reveal how they're dealing with everything that has happened in their little town. "I think they're all very emotionally scarred," he said. Additionally, Mike Wheeler actor Finn Wolfhard stated that the new episodes will be intense and horrifying. "There are going to be some challenges that the characters face that are real. That are disturbing. I think this season will be a lot [darker]. A lot more horror-oriented. I think people are going to like it more than the first season."
We'll see how everything pans out when Stranger Things returns to Netflix on October 27. Until then, check out the untold truth of the series.