The Role You Might Have Forgotten James McAvoy Had On Band Of Brothers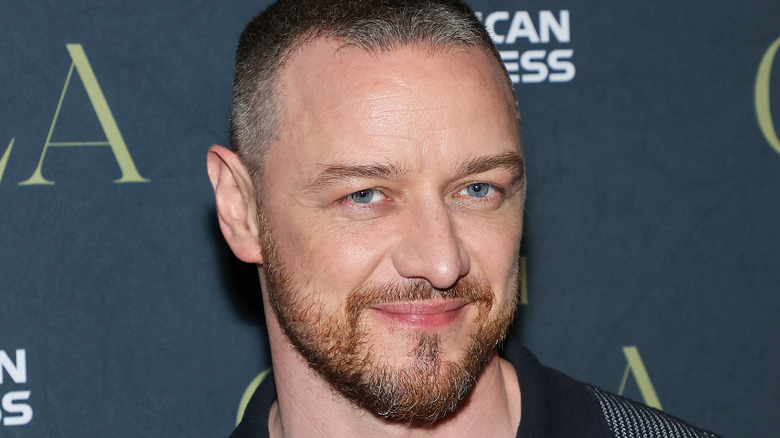 Arturo Holmes/Getty Images
"Band of Brothers" is an iconic wartime drama limited series from HBO, notably created by Tom Hanks and Steven Spielberg. The series is based on the true story of Easy Company, a group of soldiers from World War II who faced many hardships together. The 10-episode miniseries celebrated the 20th anniversary of its premiere last September, with the series originally airing in late 2001 (via Smithsonian Magazine). 
The main cast of "Band of Brothers" includes popular actors like Damian Lewis, Ron Livingston, Michael Cudlitz, Neal McDonough, and many more. As an ensemble series, the supporting cast is just as noteworthy, with appearances from a lot of popular actors in modern Hollywood. For example, Simon Pegg portrays First Sergeant William S. Evans in two episodes, and Michael Fassbender plays Technical Sergeant Burton P. Christenson, a soldier who becomes part of Easy Company quickly and manages to survive with its remaining members through the end of the war.
Fassbender would go on to star in massive franchises like "X-Men" as the younger version of Magneto, alongside James McAvoy as Charles Xavier. However, McAvoy too appears in "Band of Brothers" in a role you might have forgotten. Here's what we know.
James McAvoy was Private First Class James W. Miller in Band of Brothers
Appearing in the fourth episode of "Band of Brothers," titled "Replacements," James McAvoy's Private First Class James W. Miller is a new addition to Easy Company, specifically joining Sergeant Denver "Bull" Randleman's (Michael Cudlitz) unit before Operation Market Garden. Miller grows close to both Lester Hashey (Mark Huberman) and Antonio C. Garcia (Douglas Spain) as the group moves into the operation together. During the events of the battle against German resistance, Miller is separated upon retreat with Hashey and Garcia, ultimately getting killed in action. 
While his role is brief, the character is certainly influential to the stories of Hashey and Garcia, not to mention McAvoy's career as an actor. It was only his seventh credited film and television acting job at the time (via IMDb). Of course, McAvoy would go on to obtain many memorable roles in the coming years, including his time as Mr. Tumnus in "The Chronicles of Narnia: The Lion, the Witch and the Wardrobe," Robbie Turner in "Atonement" opposite Keira Knightley, Wesley in "Wanted" co-starring Angelina Jolie, and then, of course, reuniting with Michael Fassbender in "X-Men: First Class." 
McAvoy's most recent role is that of Lord Asriel in the HBO original series "His Dark Materials." According to the show's Twitter page, the third and final season wrapped filming last November and will be released sometime in the near future.