New Black Mirror Images Showcase Season 4's Bizarre Turns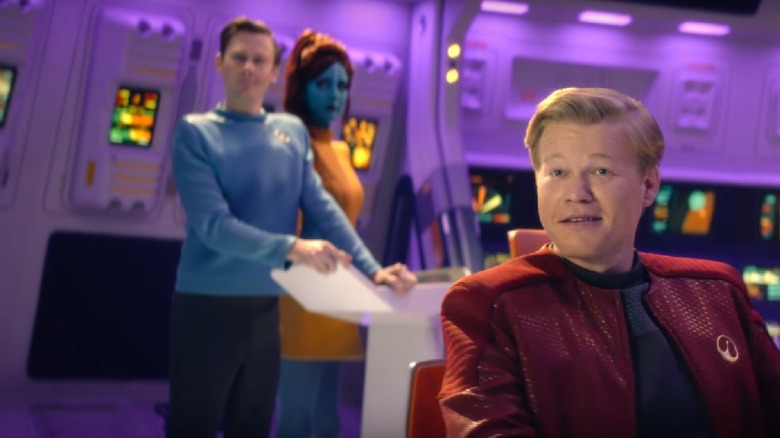 All may not be as it appears in these new images from Black Mirror's upcoming fourth season, premiering soon on Netflix. 
The images come from the episodes "USS Callister" and "Arkangel", whose episode titles were revealed in the season's first trailer. The first is clearly taking inspiration from Star Trek, with the cast assembled on the bridge behind their captain in a very familiar Federation-style glamour shot.
What a cast, too—"USS Callister" stars Jimmi Simpson, Cristin Milioti, Michaela Coel, and Billy Magnussen, with Friday Night Lights' and Breaking Bad's Jesse Plemons seated in the captain's chair. The episode was directed by Toby Haynes, known for his work on Doctor Who, Sherlock, and Jonathan Strange & Mr. Norrell.
The second image comes from a more mysterious episode, "Arkangel", which will see Jodie Foster directing a cast that includes Rosemarie Dewitt, Brenna Harding, and Owen Teague. Between the trailer and the image, it's difficult to tell what's going on here. It appears to be a child being tested on, but it's not clear who's in more danger, the child or the adults. In this show, it could be all of the above.
The new season of Black Mirror debuts on Netflix this year. While we wait for more news, check out what series creator Charlie Brooker has to say about the upcoming abundance of Easter eggs in the fourth season, and follow it up with our feature on the best hidden details in Black Mirror you didn't notice.