Fans Of Black Mirror Easter Eggs 'Will Love The Next Season', Creator Says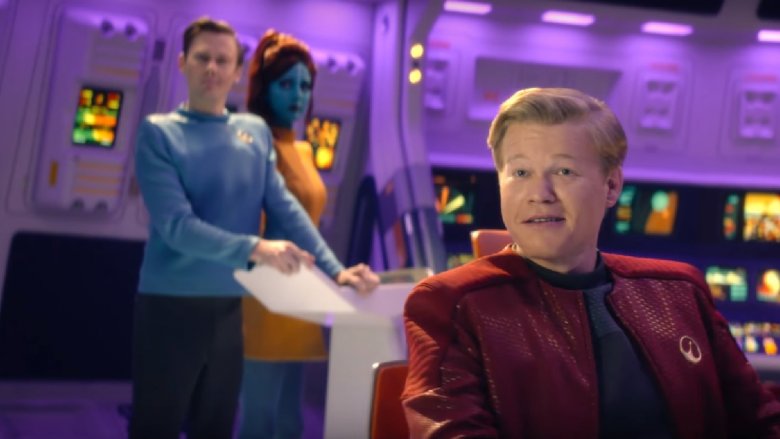 Netflix
Eagle-eyed obsessives of the Netflix dark anthology show Black Mirror will have a lot to look forward to in the coming season, show creator Charlie Brooker promised in an interview with The Hollywood Reporter.
In the interview, which comprehensively covers the creation and reception to season 3's lauded "San Junipero" episode, Brooker and executive producer Annabel Jones discussed the possibility of ever revisiting the world of that Emmy-nominated story, segueing into a conversation about the thriving fan culture centered around identifying and deciphering the many Easter eggs that are threaded through the series' otherwise-unconnected episodes. 
"We do like to drop Easter eggs every so often in other episodes," said Brooker. "So we may be referring to San Junipero again. It's difficult because I don't think we'd revisit those characters. That felt like such a story and we wouldn't want to open it up again."
After shutting down the notion of a San Junipero sequel, Brooker made it clear that fans of the show's hidden references will be pleased with what's coming in season four as they turn their output up a notch.
"Oh, they'll love the next season then!" said Brooker. "I think it's fair to say that there is one episode where we've just opened up an Easter egg hose and fired away."
Brooker went on to define what the Easter eggs actually mean within the show, having previously said that the sole purpose of the references was "just to f— with people." Now, Brooker says that the in-jokes may be hinting that the separate stories in the anthology have more to do with each other than things at first appear. 
"It always used to be that it's just a bit of fun. But then sometimes we've done some things where we did explicitly refer to other episodes," Brooker said. "I think the rule is that when a character says something that explicitly refers to something else, it's canonical. Also, they follow the same dream universe. That's the other thing that I tend to say. There's a line in 'Hated in the Nation' where someone refers to a crime that happened in 'White Bear.'"
A lot of the show's references have a blink-and-you'll-miss-it quality, meant to reward on close or repeat viewings. "We love doing that," said Brooker. "I love all the product design and UI side of it. We'll sit there and dissect type face. It's always about stripping it down. But we write Easter eggs to put in there specifically and sometimes there's gags for people who press pause."
It's not yet been announced when Black Mirror will return to Netflix for its fourth season of six episodes, but you can check out the episode titles and trailer for the upcoming installment here. But first, check out our feature on the Black Mirror Easter eggs you didn't notice.