It: Chapter Two Plans In The Works, Screenwriter To Return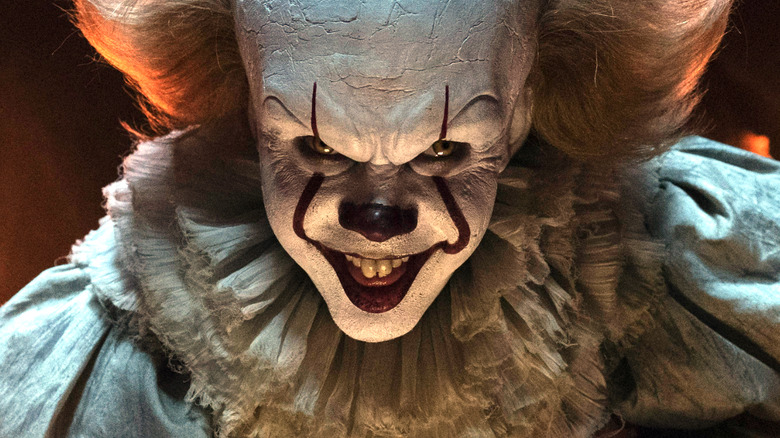 New Line Cinema
If there was ever any doubt about a sequel to the upcoming movie adaptation of Stephen King's It, a new report suggests we should rest easy.
According to The Hollywood Reporter, New Line is already moving forward with It: Chapter Two, even though the first installment doesn't hit theaters until tomorrow (Sept. 8). But it's already got the record for selling the most pre-sale tickets of any horror movie ever and it's estimated to bring in an impressive $60 million during its opening weekend.
Gary Dauberman (Annabelle: Creation, The Nun), one of the screenwriters on the new It, has reportedly closed a deal to pen the screenplay for its sequel, and director Andy Muschietti (Mama) is expected to return, although there's no deal just yet. Producers Barbara Muschietti, Roy Lee, Dan Lin, Seth Grahame-Smith, and David Katzenberg are also set to be back.
King's classic centers on a group of kids who come together to battle Pennywise (Bill Skarsgard), the demon that plagues their small town, and then follows them into adulthood. New Line decided to split the story into two parts: the first movie focuses on the characters as kids and is set in the '80s, while the sequel would be set in the present and revisit the characters as adults.
The new version of It has enjoyed plenty of online buzz and the first teaser reached a staggering 197 million views during its first 24 hours. Reviews have mostly been positive, and it could lead to the biggest September opening in history if it surpasses the $48 million that Hotel Transylvania 2 made in 2015.
It's not clear if Chapter Two will bring back the young stars of the first movie. Sources said the story takes place 27 years later, but there could be flashbacks like there are in the book. New Line hasn't reached out to older actors yet.
There's no release date, but it's likely that the movie would arrive in 2019. If the kid actors are still in the picture, the studio would need to move fast before their appearances change too much.
We'll keep you posted. Until then, check out more upcoming reboots we can't wait to see.