The Best Fin Tutuola Quote From Law & Order: SVU Season 7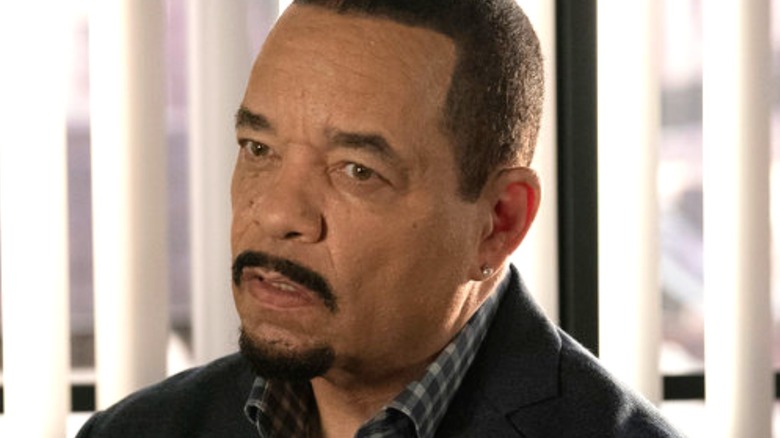 Virginia Sherwood/NBC
The resident wisecracker of "Law & Order: Special Victims Unit" is the always funny — but also, always dependable –  Odafin "Fin" Tutuola (Ice-T). From his introduction onward, Fin has been a bright light during the often grim and dark procedural. Whether he's using his now-classic catchphrase or taking down a racist with a simple, well-done putdown, he's never at a loss for something to say — and if he ever does get quiet, then the perps in question should be very, very concerned. You don't want to mess with Fin, not even if you're a close friend.
During Season 7 of "Law & Order: Special Victims Unit," the detectives investigate school snipers (Episode 6, "Raw"), a predatory scientist (Episode 2, "Design"), and find a baby in a dumpster (Episode 14, "Taboo"). This amounts a lot of jaw dropping things to occur over the span of a single season, and it's honestly just the tip of the iceberg when it comes to perps the show tackles during this time period.
Thankfully, over those 22 episodes, Fin's wit remains on full display. But in which episode does he deliver his cleverest bon mot? Here's the moment we think stands head and shoulders above the rest when it comes to Fin's trademark witticisms. 
Fin asks Munch if Twinkies really do last forever
Almost any snippet of Fin's banter with his also-witty partner John Munch (Richard Belzer) qualifies for any list of memorable "Law & Order" moments, but during Episode 7 of Season 7, "Name," the twosome reach new heights. 
The detectives are on the scene when the bones of a boy who's been missing since 1978 are uncovered by playground construction. The team is tasked with finding out who the boy is, which leads to an unsolved case from the same era in which four boys disappeared without a trace during the same era. What did survive? A lunchbox that was carried by the anonymous child. There's even leftover food inside of it, including wrapped Twinkies. Cracking open the box, Fin turns to Munch. "Okay, I always wanted to know this," he says. 
"What?" Munch says. 
"Do Twinkies last forever?" Fin replies. "Give you 20 bucks, take a bite."
The pair most assuredly do not bite into the 30-something-year-old Twinkies, though the "Battlestar Galactica" design of the lunchbox definitely helps the group to figure out when it might've been purchased. The longevity of Twinkies has long been a popular urban legend that has inspired many casual scientific studies, though NPR reports that these sugary snacks don't necessarily hold up as well as you've heard. Either way, not only is Fin's comment a funny joke, but it pokes at an urban legend we're all familiar with.