Mike Wolfe's First Pick Happened Long Before American Pickers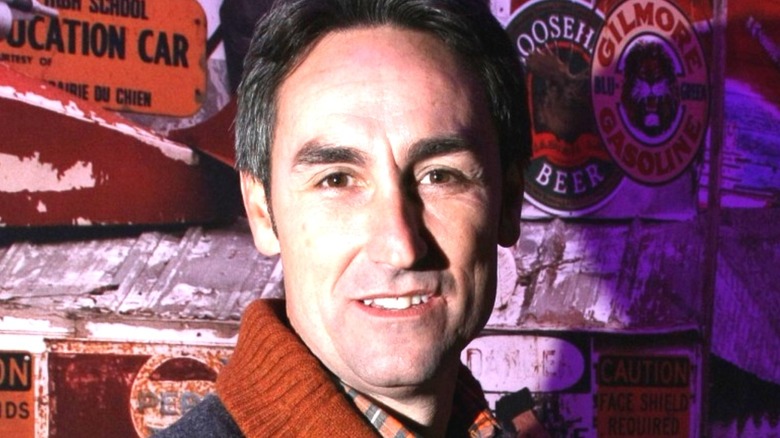 Neilson Barnard/Getty
From its debut and for just over 20 seasons, "American Pickers" was hosted by antique experts Frank Fritz and Mike Wolfe. Together, the duo would travel to locations across the United States looking to purchase valuable items, referring to a successful transaction as a "pick." Then, partway into Season 21, Fritz's tenure suddenly ended, and an ongoing feud between the two "American Pickers" hosts soon came to light.
Following Fritz's departure and continuing to the present day, "American Pickers" has been hosted by Wolfe and longtime series stalwart Danielle Colby. While hiring a replacement for Frank is likely something the show's producers can fall back on if the current incarnation of "American Pickers" begins losing momentum, Wolfe's antiquing expertise appears to be sufficient to allow him to take on his former partner's role himself, at least for the time being.
Wolfe's career as an antique buyer, in fact, not only began well before his ongoing "American Pickers" stint, but decades prior to his first taste of TV stardom.
Wolfe's antiquing history dates back to his childhood
At one point shortly after Mike Wolfe became a recognizable TV personality, Bicycling magazine interviewed him about his longtime interest in bikes. Wolfe recounted how, as a child, he became obsessed with collecting bicycles, and even owned a bike shop prior to buying and selling antiques. As it turns out, Wolfe made his first pick during his childhood, driven by his bike obsession.
"When I was little I was just fascinated by bicycles, I wanted one so bad. My mom was a single mom and we couldn't afford bikes. But I saw this banana-seat bike in an alley with weeds all over it. I went up to the guy who lived in the house and asked if I could have it. He just gave it to me—all I had to do was wipe it down and put air in the tires," Wolfe said.
In light of this anecdote, Bicycling magazine interviewer Louis Mazzante asked Wolfe if picking was something of a lifelong interest. Wolfe then explained how his career-sustaining hobby developed out of the fact that his mom wasn't able to afford many of the things he wanted as a child. "I knew from a young age, right away, that if I wanted something, I had to go out and get it on my own," he added, shedding light on the path that led him to his TV gig today.