The Fear The Walking Dead Actor You Likely Forgot Starred In Harry Potter
Postapocalyptic media has been on the rise since "The Walking Dead" graced screens in 2010. Fans were immersed in this zombie war, falling in love with the characters and grieving when they either died or turned. The series' popularity has given birth to a spin-off called "Fear the Walking Dead," which serves as a prequel for about three seasons before running concurrently with the original show. The first four seasons largely focus on Madison Clark (Kim Dickens) and her two children, Nick (Frank Dillane) and Alicia (Alycia Debnam-Carey), as they experience the beginning of the outbreak and learn to survive in this new world.
Nick is a major protagonist before the time jump. Formerly addicted to heroin, he assumes a role of leadership in every community his family starts or joins and truly cares about the people under his care. In Season 4, Nick murders Ennis (Evan Gamble), a high-ranking member of an antagonistic group of survivors known as the Vultures, which results in Charlie (Alexa Nisenson), a young girl taken in by the group, retaliating by shooting Nick, who dies from his wounds.
It is likely that fans watching "Fear the Walking Dead" noticed that Nick looks a little familiar. This is because Dillane — who is actually English — had a pretty prominent role in "Harry Potter," though he is only in one movie for a few minutes.
Frank Dillane is Tom Riddle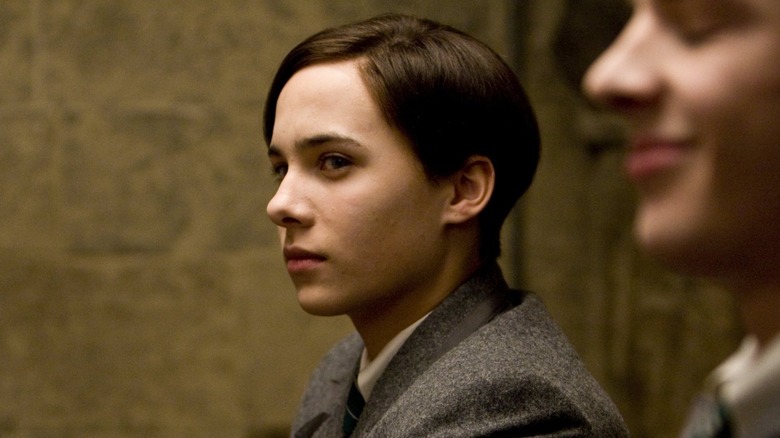 Warner Bros. Pictures
Frank Dillane appears in "Harry Potter and the Half-Blood Prince" as a teenage Tom Riddle, aka Lord Voldemort. As "Harry Potter" fans know, Voldemort's desire for power carries him through the series as he continuously tries to kill Harry and establish himself as the most powerful wizard of all time. His rise to evil begins when he is just a teenager, and the scene Dillane is in shows the measures he is willing to take.
His shining moment comes when Tom approaches Professor Slughorn and brings up the subject of Horcruxes. Though Dillane doesn't get much screen time, this scene is incredibly important. With the information he receives from Slughorn, he is able to study Horcruxes and make himself nearly immortal in the near future. This interaction sets off the rest of the story and is the basis for the final films and book, with Harry having to destroy these Horcruxes to end Voldemort's reign.
During this exchange, Dillane is charming yet slightly off-putting, perfectly embodying how Tom is described during his time at Hogwarts. Furthermore, his performance is reminiscent of that of Christian Coulson, who portrayed 16-year-old Tom Riddle in "Harry Potter and the Chamber of Secrets." In his first role in 12 years (and only his second ever), Dillane managed to capture Coulson's cockiness and charm while making the character his own.