Who Played Savannah Hayes On Criminal Minds?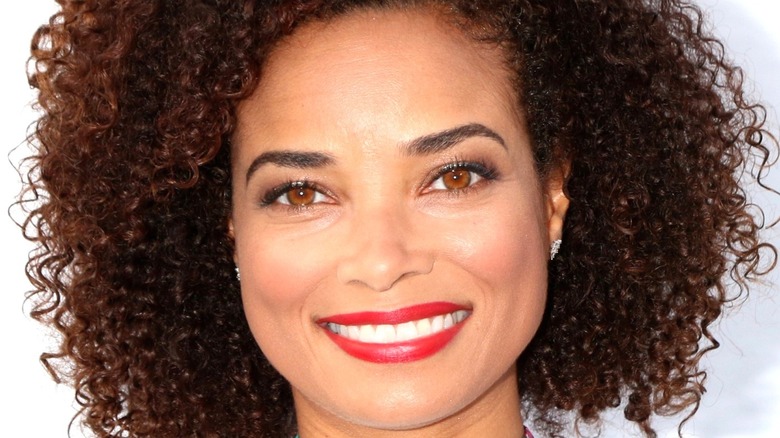 Kathy Hutchins/Shutterstock
"Criminal Minds" ran on CBS for 15 seasons and brought a bevy of characters for audiences to love (or hate). Some of them are the kind of character that shows up for a short time to give the central characters depth and unveil a little more about their romantic lives, while others stick around for an extended amount of time and become steady partners to the characters. One example of the latter is Savannah Hayes.
Hayes is a doctor at Bethesda General who first appears as Derek Morgan's (Shemar Moore) girlfriend in Season 9. However, with both of them being constantly called away to their jobs, Morgan begins to push her away. They eventually decide to recommit to each other, and Morgan buys them a house together by the end of the first third of Season 10. Season 11 saw Morgan's abduction by the Ragtag Operatives, during which Morgan dreamed that he and Hayes were married with two children. His rescue is then followed by the news that Hayes is pregnant and a hospital bedside proposal. Hayes was last seen in a hospital bed of her own after giving birth to their child.
Hayes appeared in 10 episodes over those three seasons and gave Morgan something to love and focus on outside the job, something the character sorely needed. But who played the endearing Savannah Hayes?
Savannah Hayes was played by Rochelle Aytes
Savannah Hayes was portrayed by Rochelle Aytes, who is also known for her appearances in the movies "White Chicks," "Madea's Family Reunion," and "Trick 'r Treat." In "Criminal Minds," she brought a balance between endearing kindness and moral toughness, and in 2019, she even reunited with Shemar Moore on "S.W.A.T.," playing Nichelle, the love interest of Shemar Moore's character, Hondo.
When asked during an interview with CBS Boston about rekindling that on-screen relationship, she said, "It's been quite a few years since I worked with Shemar and when I got the call that I got this job, I was just so excited to be working with him again." She then described what it's like working with him again in a similar capacity: "The work is easy and fun, there's just a sense of comfort there and we just know each other. I think it was just 'ok let's do this' kind of get right back into where we left off."
In "S.W.A.T.," fans have seen more of the beginning of the relationship between Aytes' and Moore's characters, something that was missing from the actors' roles on "Criminal Minds." Their relationship on "S.W.A.T." seems to be heading in the same direction as their relationship on "Criminal Minds," though, since Hondo and Nichelle have decided to have a child together. Hopefully, Hondo will keep an eye on rooftops to avoid sniper fire this time.