The Flash CinemaCon Trailer Teases The Return Of A Classic Batman
Since its announcement in 2014, it feels like it's been a long trek to get the Warner Bros. "The Flash" film off the ground. The movie has changed not only scriptwriters but also directors during its production. The film has also encountered some controversy because of its lead, Ezra Miller, who might be facing serious consequences because of their recent arrest. Still, despite those obstacles, "The Flash" appears to still be inching closer to its debut in 2023. And a recent teaser trailer from CinemaCon may have raised some more excitement for the project.
Via Deadline, the trailer points to rumors of the movie's script taking cues from DC Comics' "Flashpoint" series. In the comic storyline, the Scarlet Speedster experiences a grand multiverse adventure that, in the end, has enormous ramifications for his own universe. He also encounters alternate reality versions of some of DC's most iconic heroes. The trailer shown off at CinemaCon was apparently a little light on other hero appearances, except for the return of a classic onscreen Batman that may delight fans.
Michael Keaton makes a big appearance in the trailer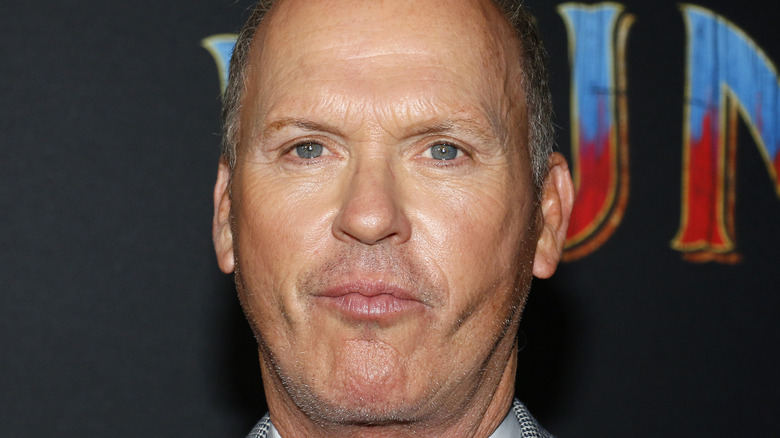 Tinseltown/Shutterstock
If there were any doubts about Michael Keaton reprising his role as the Caped Crusader in the upcoming "The Flash," a special trailer from CinemaCon has cast those away. The trailer shown at the event features Keaton and countless nods to his time as Batman. Per Deadline, the new trailer has Miller's Flash trying to convince Batman to join him, and it shows off a collection of Batsuits and a Batcycle. On Twitter, Gizmodo and i09 Senior Reporter Germain Lussier backed up Deadline's report of numerous Batsuits while also adding that Keaton appeared dressed in a brand new one.
In addition, Keaton also drove up massive nostalgic vibes for Tim Burton's "Batman" films by saying the line, "You wanna get nuts? Let's get nuts!" This is, of course, in reference to a scene in the 1989 "Batman" film where Batman confronts the Joker (Jack Nicholson) in Vicki Vale's (Kim Basinger) apartment. While the trailer is Batman-heavy, there is also an appearance from a particular Kryptonian. Fandango managing editor Erik Davis tweeted that Zod, played by Michael Shannon, is in the trailer, too. This suggests that "The Flash" could be messing with the multiverse, as Zod's last appearance in the DCEU ended with him deceased at the end of "Man Of Steel." There's no word yet on when the trailer will officially drop online. However, "The Flash" is scheduled to premiere on June 23, 2023.