CinemaCon Teaser For Baz Luhrmann's Elvis Is Already Drawing Rave Reviews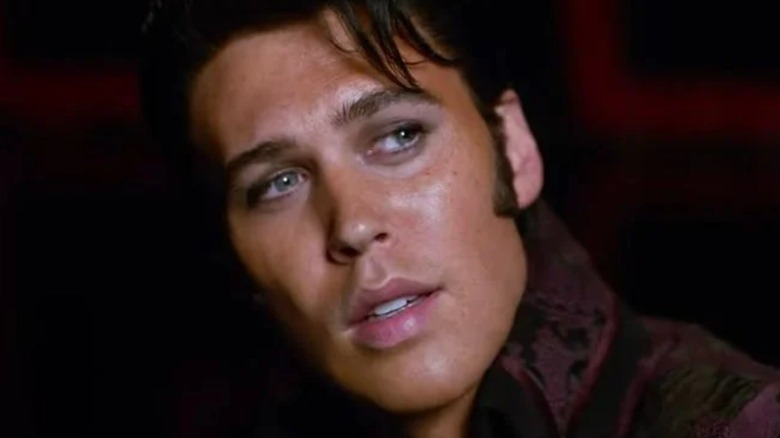 Warner Bros. Pictures
If you're a fan of musical biopics, then director Baz Luhrmann's latest project will likely excite you. "Elvis" takes moviegoers back to the mid-20th century as the titular musician — as played by Austin Butler of "Once Upon a Time in Hollywood" and "The Carrie Diaries" fame — started his meteoric rise to superstardom. It will tell of how he met his longtime manager, Colonel Tom Parker (Tom Hanks), his wife Priscilla (Olivia DeJonge), and became the "King of Rock and Roll" throughout his star-studded career. Of course, you can count on hearing some of Presley's greatest hits throughout too.
Talks of "Elvis" date back to 2014 when Luhrmann first signed on as director (via The Wrap), though it took a good few years for the ball to truly get rolling. Come 2019, Butler had scored the role of Elvis himself, and by 2020, principal photography had officially begun. February of 2022 then saw the first dazzling trailer hit the internet, making it abundantly clear that this long-gestating project had well and truly escaped development limbo. At the time of this writing, its June 24, 2022 premiere date is just under two months away, so it should come as no surprise that we're due to see more.
Sure enough, CinemaCon 2022 delivered on that expectation, showing off some teaser footage that audiences couldn't get enough of.
The new Elvis footage generated all kinds of praise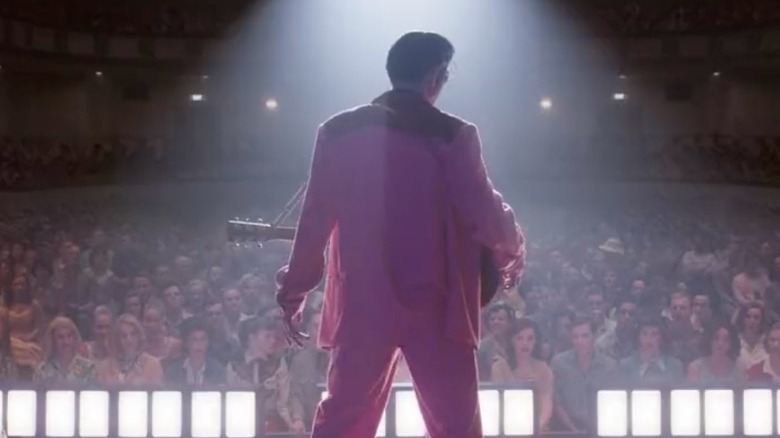 Warner Bros. Pictures
To build up anticipation for "Elvis" ahead of both its cinematic and Cannes Film Festival debuts, Baz Luhrmann offered up a fresh look at the production for CinemaCon attendees. "It's really for me about America in the '50s and '60s and '70s. If you want to talk about America in the '50s and '60s and '70s, at the center of culture, for the good, the bad, and the ugly, was Elvis," the director said, comparing Elvis' real-life journey to that of a prototypical superhero and letting everyone know that this isn't a biopic in the traditional sense (via IndieWire).
As far as the new teaser goes, social media lit up with positive reactions. "ELVIS footage looks great and elicits the loudest response thus far from crowd of exhibitors at CinemaCon," wrote @TheInSneider on Twitter, with @ScottDMenzel admitting that their initial skepticism toward the film has largely dissipated. @GermainLussier adds that they were floored by what the clip had to offer and that it increased their excitement level exponentially. @ErikDavis agreed with all of these sentiments and shared their honest support for the reel and movie.
"Elvis" is right around the corner, so we won't have to wait too long to buy a ticket to check it out. If these impressions are of any indication, then we're in for something special when it hits the silver screen this June.