The Role You Likely Forgot Tom Hardy Had On Band Of Brothers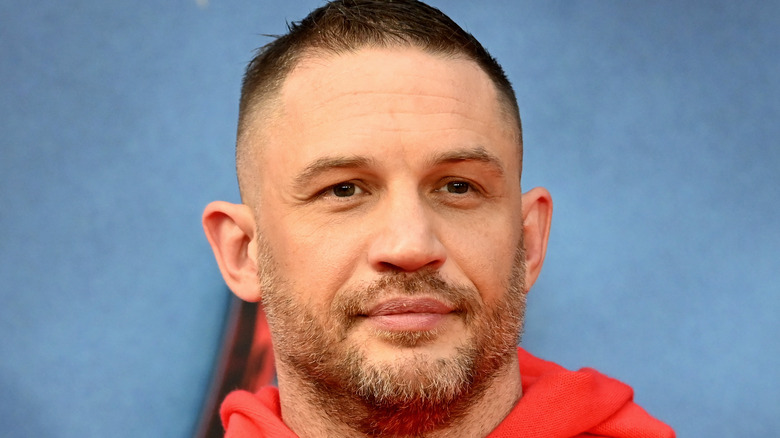 Dave J Hogan/Getty Images
Over the course of the past decade, Tom Hardy has become a respected talent thanks to his work in films like "Inception," "Locke," and "Mad Max: Fury Road." He even netted an Academy Award nomination for his fierce performance opposite Leonardo DiCaprio in "The Revenant," and is currently fronting Sony Pictures' blockbuster Marvel franchise "Venom."
Hardy's current status as a legit Hollywood A-lister is hardly a fluke, of course. After all, the actor has been in the game for a couple of decades now, having first earned notice for delivering scene-stealing turns in films like "Black Hawk Down," "Star Trek: Nemesis," and "Layer Cake." You may not remember, however, that Hardy booked his first significant acting gig before he ever appeared in those films — and booked it on arguably one of the best drama series that ever hit the airwaves. That series was the Emmy-winning, Steven Spielberg and Tom Hanks produced WWII saga "Band of Brothers." Here's who Hardy played in the series.
Hardy had a small, but memorable role on Band of Brothers
If you watched "Band of Brothers" when it debuted on HBO in 2001 or caught it in the ensuing decades, you know the series' cast includes the faces of quite a few people who have become big-name stars, including Michael Fassbender, James McAvoy, Simon Pegg, and Jimmy Fallon. And yes, you can indeed add a baby-faced Tom Hardy to the long list of stars who made an appearance in "Band of Brothers," as the actor turned up in two episodes as Private First Class John A. Janovec.
Hardy's Janovec was admittedly a minor character in "Band of Brothers," and didn't actually appear among his Easy Company brethren until the series' penultimate episode. Titled "Why We Fight," that episode was one of the series' most memorable, however, as it found the men of Easy Company witnessing the horrors of the Nazi regime firsthand after coming across an abandoned concentration camp. Sadly, PFC Janovec did not make it out of the series finale alive, as he died tragically in a jeep accident after being relieved of guard duty on a German backroad. 
Despite the relatively brief nature of his "Band of Brothers" appearance, Hardy's warm and witty work indeed paid proper respect to the real-life soldier he portrayed. And yes, his American accent was pretty spot-on, as well.