Buster And Lucille Reunite In New Arrested Development Set Pic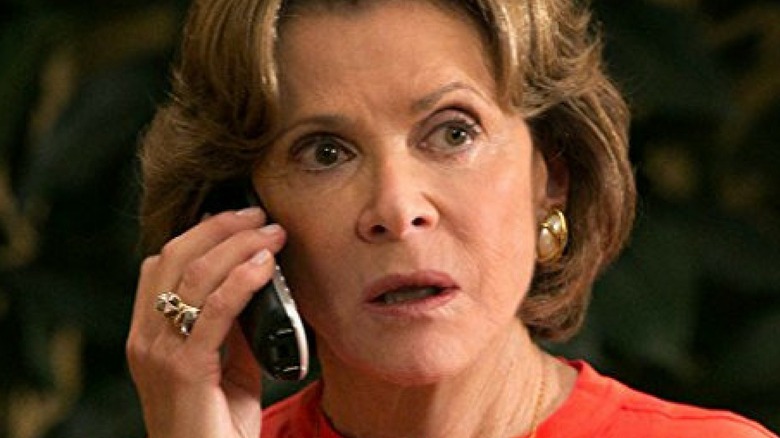 Mother is back in the newest set pic from Arrested Development season five. The snapshot, shared on Twitter by Tony Hale, shows Buster alongside Lucille (Jessica Walter), with the caption saying, "Mother and me."
Mother and me. #AD5 pic.twitter.com/ANwe4M5IBB

— Tony Hale (@MrTonyHale) September 5, 2017

Jason Bateman, who played Buster's brother Michael on the cult favorite series, has said that the upcoming season will fix some of the mistakes of season four, specifically by bringing larger portions of the cast together at once. "Because of certain limitations we had with actors' schedules and exclusivities to other shows, and budgetary constraints, [creator Mitchell Hurwitz] had to pivot a bit off of that," he said of season four, adding that it ended up being "a little bit more complicated" than originally planned.
While Bateman says the cast and crew still stand behind those episodes, he added that they're all "really excited" to get back together for the upcoming season. Pictures of the gang appearing in the same room again also seem to already be a favorite with fans, with Hale's Tweet earning thousands of shares and over 30,000 favorites.
As for what season five will actually entail, Bateman has said that it will focus on the murder mystery concerning the death of Liza Minnelli's Lucille Two. "[It's] a bit of a whodunnit, who may have done it, who has something to do with it," Bateman teased. "That's sort of a central threat around which [Hurwitz] is going to braid in all the colorful plot complications that he knows how to do." 
Season five may not be the last we see of Arrested Development, either. According to Bateman, Hurwitz has a "three-act story" in mind for the show's future, with the first act coming from the rebooted season four and the second coming through season five. "Then the third act presumably will be done if we can all get it together at a later date, maybe in another few years," Bateman said. "We're kind of turning into a Michael Apted Seven Up! thing."
Arrested Development season five is expected to hit Netflix at some point in 2018. Portia de Rossi, Will Arnett, David Cross, Jeffrey Tambor, Michael Cera, and Alia Shawkat also star in the series. While we wait for the show to return, see why it was canceled in the first place.