The Three's Company Finale Still Bothers Fans To This Day
"Three's Company" was a ratings blockbuster for ABC during its eight-season run. The sitcom centered around three single roommates sharing a Santa Monica apartment: goofy chef Jack Tripper (John Ritter), hopelessly innocent secretary Christmas "Chrissy" Snow (Suzanne Somers), and wannabe dancer and current florist Janet Wood (Joyce DeWitt). To keep their lease intact — protective landlord Stanley Roper (Norman Fell) isn't supportive of the notion of a bunch of mixed-gender single kids living together — the group lies that Jack is gay. The show combines lighthearted slapstick, most frequently performed by the rubber-faced Ritter, and double entendres per minute to create sitcom gold. 
"Three's Company" also had a premise that kept the series afloat through major cast changes. To wit, Stanley and his wife Helen (Audra Lindley), are eventually replaced by the equally suspicious and yet more culturally "with it" Ralph Furley (Don Knotts) when they leave the show to head their own short-lived spin-off. Later, after a controversial salary dispute, Somers left the sitcom and Chrissy was replaced by her even more naïve cousin Cindy (Jenilee Harrison) and then the more serious Terri Alden (Priscilla Barnes).
The show kept things pretty lighthearted, and viewers stayed happy through all these changes. Nonetheless, fans were bound to be disappointed by how the show's producers chose to end its final season, and that disappointment hasn't lessened in the decades since the finale aired.
Three's Company was too focused on setting up a spin-off to end properly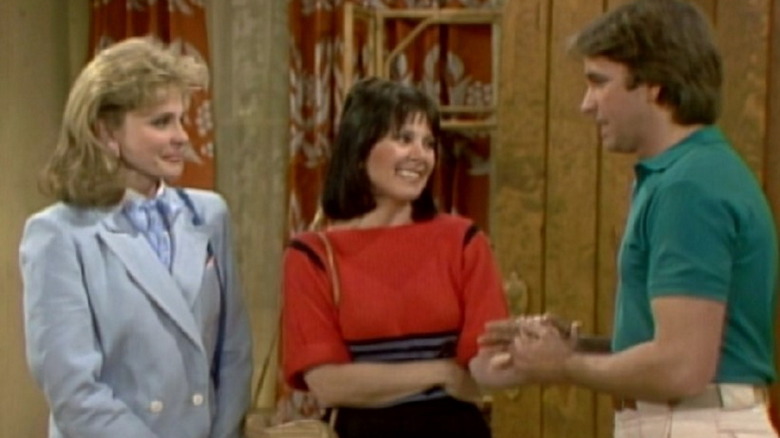 ABC
"Three's Company" said goodbye to the world in a long form fashion. "Friends & Lovers," along with two previous episodes, "Cupid Works Overtime" and "The Heiress," serve as a four-part conclusion to the show — and an attempted launching pad for "Three's a Crowd," the show's spin-off. To do this, the happy home of the three roommates had to be deconstructed.
To wit, the show's last few episodes see Jack fall in love with stewardess Vicky Bradford (Mary Cadorette), the daughter of a protective and rich executive, as Janet finds romance with art collector Phillip Dawson (David Ruprecht). While Janet and Phillip marry in the gang's apartment in the first part of the finale, Jack fails to convince Vicky to accept his proposal — she's too emotionally scarred by her parent's terrible divorce to say yes — so they instead agree to share an apartment together. Terri, meanwhile, declares she's moving to Hawaii. The roommates move out with Mr. Furley's help, and Jack and Vicky settle into their respective new digs. Very little of the final episode focuses on either Janet or Terri, with Terri's story in this final long storytelling arc being remarkably minimal.
That final scene of the show tries very hard to make viewers care about Jack and Vicky's future, but the flat chemistry between the characters draws a negative reaction, and Vicky's dad (Robert Mandan) comes off as abrasive in an unentertaining way. Ratings for "Three's a Crowd" would later back up this notion. While the roommate's futures seem bright as they move toward the sunset, fans proved to be reluctant to follow them into it.
Three's a Crowd never replicated Three's Company's success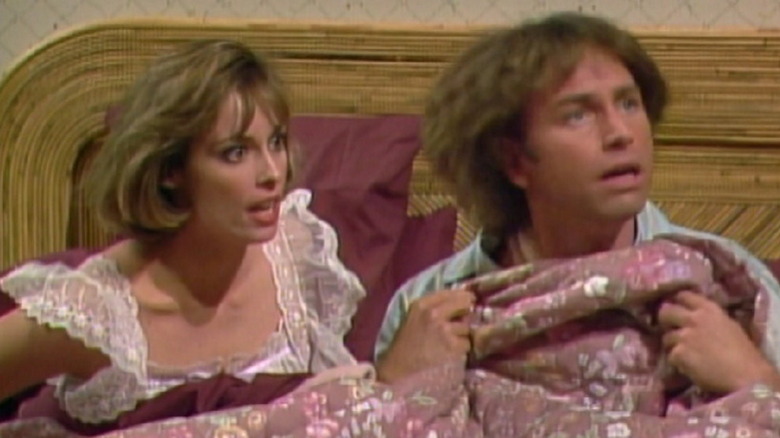 ABC
Fans of the show roundly consider the show's series finale to be a disappointment and a major shark jump, especially its final scene. For example, IMDb user nickb-22813 states that "Mary Cadorette's portrayal of Vicki's explanation of why she's afraid to get married comes off fake and unreal. Plus, the comedic chemistry between her and Jack just is not there." 
Contemporary viewers on message boards such as Lipstick Alley, Sitcoms Online and Primetimer express their dislike of the show's finale, calling it rushed, with posters naming everything from Jack and Vicky's insta-relationship, to Phillip and Janet's sudden marriage, to the way Terri's storyline feels like an afterthought, to the obvious way the episode's plot sets up its spin-off. Some hoped that Chrissy would return for some form of closure, and that the roommates would stay together. Many fans even stated that they hoped the show would pay off Jack and Janet's ever-simmering attraction to one another in the show's final episodes, instead of pairing them off with new people ... which certainly would've been more satisfying, since they were the two characters who stayed in the show from the beginning to the end.
The "Three's Company" finale haunted "Three's a Crowd" when it debuted on ABC in 1984. Clearly, fans didn't seem to want to see Jack Tripper in a committed relationship — well, unless it was with Janet — or maybe they too just thought Ritter's chemistry with Cadorette was nonexistent. Either way, unlike "Three's Company," it drew middling ratings (per Rating Graph) and only lasted a single season of 20 episodes before being cancelled in 1985. It proved a sad coda to a series that did so much for ABC.