Sony Gives Venom Fans The News They've Been Waiting For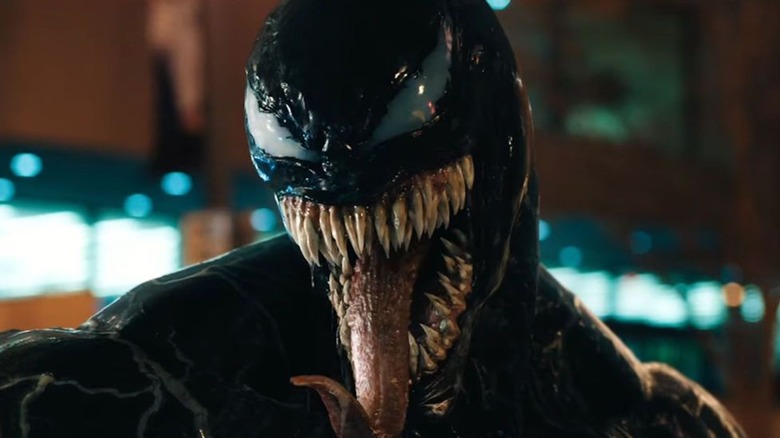 Sony Pictures Releasing
When Sony's "Venom" arrived in theaters back in 2018, no one could've predicted that it would rake in $856 million worldwide (via Box Office Mojo). The trailers showed Venom (Tom Hardy) without the iconic white spider on his chest, and it seemingly had no connections to any version of Spider-Man whatsoever, sparking plenty of concern from Marvel fans. Critics weren't impressed by its bizarrely comedic tone, either — giving it a 30% score on Rotten Tomatoes — because all the marketing had led many to believe it was a straight horror-thriller, and instead we were given Hardy splashing around in a lobster tank.
However, "Venom" was successful enough to warrant a sequel from Sony, and "Venom: Let There Be Carnage" arrived in theaters in October 2021. This time, Hardy's symbiotic antihero went against serial killer Cletus Kassady (Woody Harrelson) when the latter bonds to an even more powerful red symbiote. This movie, in its post-credits scene, even thrust Venom into the Marvel Cinematic Universe, as the symbiote duo find themselves in a hotel room looking at the face of Spider-Man (Tom Holland) on a TV screen.
While Holland's Spider-Man movies are a joint effort between Sony and Marvel Studios, it is the "Venom" movies that act as the cornerstone of Sony's independent efforts. So far, efforts to build on the "Venom" flicks haven't fared so well – the Jared Leto vampire movie "Morbius" was a disappointment, and the fate of "Kraven the Hunter" remains to be seen — but now, Sony has finally given Venom fans the news they've been waiting for.
Venom 3 is in development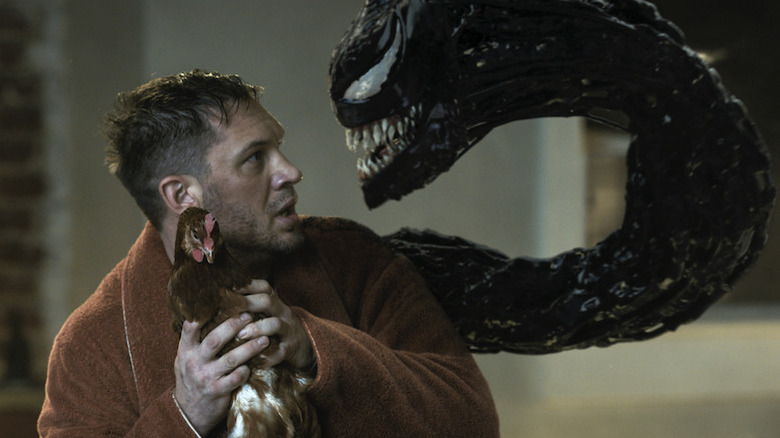 Sony Pictures Releasing
Sony took to Cinemacon on April 25 to tease the various movies that the studio is working on, including "Bullet Train" and an extended look at "Spider-Man: Across the Spider-Verse." But at the end of its presentation, Sony officially teased that "Venom 3" is in development (via Deadline). 
The studio didn't reveal any information about what the next sequel's plot, its release date, or who is set to star opposite Tom Hardy's symbiote. Nonetheless, "Venom" fans will be pleased to hear that another sequel is on the way, and there's bound to be speculation about what's ahead considering the "Morbius" post-credits scenes — where Vulture (Michael Keaton) approaches the titular vampire to join his villainous team. That's not even delving into the loose threads left by "Let There Be Carnage," where Detective Mulligan (Stephen Graham), after nearly dying, is seen with glowing blue eyes. In the comics, Mulligan becomes a symbiote hero called Toxin — so it's highly plausible that Graham will return for "Venom 3," in enhanced form.
"Venom 3" wasn't the only Marvel announcement from Sony, as the studio also revealed that it's working on an "El Muerto" movie (via Deadline) based on a wrestler who appears in two issues of "Friendly Neighborhood Spider-Man" back in 2006. Puerto Rican rapper Bad Bunny is set to star as the titular antihero, and it'll follow him as he's about to inherit his ancestral superpowers. Aside from "Venom 3" and "El Muerto," Sony is also working on "Kraven the Hunter" and "Madame Web" so it'll be interesting to see how all these projects work out in the future.