The Major Item Sharon Stone Took From The Set Of Basic Instinct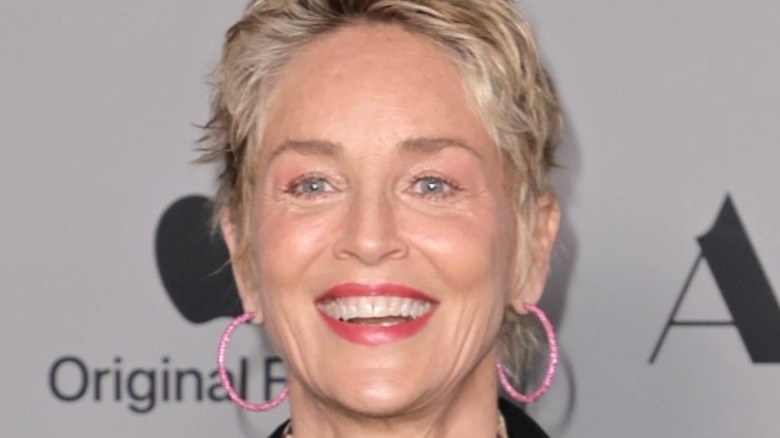 Kevin Winter/Getty
Last month marked the 30th anniversary of Michael Douglas and Sharon Stone's erotic thriller "Basic Instinct," and after all these years, Stone has a confession to make.
When the budding Hollywood star got done filming the iconic 1992 film, she managed to make off with one of the most legendary pieces of movie memorabilia in history. No, she didn't steal the priceless cinematic artifact. Stone actually put a clause in her "Basic Instinct" contract requiring that she be allowed to take it. "People thought I was crazy," Stone recalled in a February 2022 profile piece for InStyle. "But the truth is I wasn't getting paid much compared to my male co-star. I made $500,000; Michael made $14 million."
Stone would go on to become a massive movie icon following the success of "Basic Instinct," landing multiple big-studio roles in films like "Casino" and "The Quick and the Dead," among others. But it was her portrayal of the murderous vixen Catherine Tramell alongside Douglas that will always be her defining role, and one she'll never forget — for both good and bad reasons (via Vanity Fair). According to Stone, the item she took from the set of "Basic Instinct" ultimately serves as her own personal reminder of it.
Stone kept her iconic white dress from the interrogation scene
It was an outfit that helped Sharon Stone steal the show in "Basic Instinct," and one that she still has to this very day — along with almost all of her other getups from the movie.
"I still have almost all of the wardrobe," Stone told InStyle. "I've given some pieces away to charity, but so far, I've kept the white dress and coat. It was zipped up in a garment bag on the set, and it has never been opened since. I broke the zipper, so it's hermetically sealed like a piece of art or a very cool time capsule."
According to Stone, her feelings on "Basic Instinct" and the film's infamous leg-crossing scene have often changed over the years. But one thing has remained constant: her appreciation for the entire experience. When she looks at Catherine Tramell's legendary white threads, Stone says she can't help but be reminded of this. 
"Over the years, I've gone through many phases of how I feel about what happened when I was wearing that dress, but it's all very resolved for me at this point," she explained. "When I look at it now, I can't help but think about how much I learned in the process of making the film. I learned that I could withstand the pressure ... I learned how to have a spine. I learned how to speak up for myself. And yes, I learned that I look pretty damn good in white."