The Money Sharon Stone Made From Basic Instinct Might Surprise You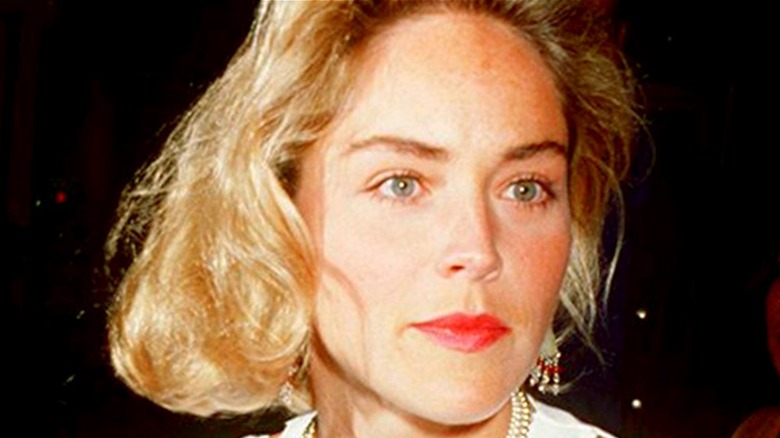 Kypros/Getty
Few actresses have experienced the kind of Hollywood longevity enjoyed by Sharon Stone. Even her name (which is in fact her real name, not a stage name) sounds like a movie star's name or a character in a script. You know her for headlining films like "Casino," "Sphere," "The Quick and The Dead," and, of course, for playing femme fatale Catherine Tramell in the 1992 smash hit "Basic Instinct." This was just the tip of the icepick for Stone though. To this day, she has accrued nearly 150 acting credits throughout her illustrious career (via IMDb).
This is actually easy to believe once you realize she had over 40 credits to her name even before "Basic Instinct." Stone had already appeared in many TV shows, including popular '80s fare such as "Magnum, P.I." and "Bay City Blues." She also had smaller parts in movies like "Police Academy 4: Citizens On Patrol," "Action Jackson," and "Above The Law." But it wasn't until she landed a supporting role in the Arnold Schwarzenegger-led blockbuster "Total Recall" that she really started turning heads (by messing with his character, as a double agent alternately pretending to be his wife and beating him senseless — ah, l'amour).
The director of "Total Recall," Paul Verhoeven, then cast Stone to star in his next project, "Basic Instinct." See how all this works? But given how big her role in the 1992 film was and how hugely successful the movie became, Stone was probably way underpaid. 
Sharon Stone was only paid $500,000
"Basic Instinct" was a massive moneymaker, reeling in over $352 million worldwide (per Box Office Mojo). But Sharon Stone shared in an article in InStyle that she was only paid $500,000 to be the leading lady, Catherine Tramell. That's nothing to sneeze at (or stab someone in the throat over), but it looks wonky next to the $14 million paid to her costar, Michael Douglas. It's hard to say for sure why there was such a big difference in the two paychecks, but we can speculate. For one, Douglas was already a big star at the time, and a proven marquee name — Stone arguably was not. Although, if she wasn't then, that changed in a hurry. After "Basic Instinct," Sharon Stone became "The" Sharon Stone, a major Hollywood player, and due for a fat raise.
It's likely not uncommon for stars to be underpaid in their first big breakout role, and that's probably the thing that drives up their asking price. No one has much leverage until they deliver a hit, so it makes sense, even if in hindsight it seems a little crazy. After "Basic Instinct," Stone then parlayed her much-deserved success story into significantly higher paydays for her next several projects. Per The Richest, she snagged $2.5 million for 1993's "Sliver," a cool $5 million for 1994's "The Specialist," and ultimately landed at $13.6 million for the 2006 sequel "Basic Instinct 2." Of course, it's possible there were other factors involved in the lower salary for "Basic Instinct," but it seems like for Stone the role was definitely worth it.
Any way you look at it, "Basic Instinct" turned Stone into a force to be reckoned with — and with a recent stint in the second season of "The Flight Attendant" and other projects lined up (via IMDb), she's still looking killer.