The Chicago Med Star You Probably Missed In Tron: Legacy
Back in 2010, Disney attempted to revive "Tron" with a follow-up to the classic 1982 movie that stars Jeff Bridges as a brilliant video game developer, Kevin Flynn, who transports himself inside a virtual world. The sequel, "Tron: Legacy," is led by Garrett Hedlund as Kevin's son, Sam Flynn, who goes searching for his missing father at his old office and gets trapped inside the same digital reality, called the Grid. Sam quickly discovers that the digital world has been overthrown by a vicious program called Clu (Bridges), who happens to look like a younger version of the elder Flynn. Sam teams up with a rebellious program called Quorra (Olivia Wilde) and she reunites him with his long-lost father, who has become a digital recluse. 
The film pulled in $400 million worldwide (via Box Office Mojo), and although it wasn't a flop, it didn't exactly set the world on fire either — so Disney didn't push the franchise any further, even though director Joseph Kosinski was keen to work on a sequel, titled "Tron: Ascension." The plot would've focused on more characters from the Grid making their way into the real world after Quorra proves that it's possible for virtual people to become tangible outside of the mainframe. Luckily for fans of the franchise, a new sequel is reportedly in development with Jared Leto set to star. 
Aside from Hedlund, Bridges, and Wilde, there are some other notable faces throughout the film — including Michael Sheen doing his best David Bowie impression as Castor and Cillian Murphy as Edward Dillinger Jr. But there's also a "Chicago Med" star you probably missed in "Tron: Legacy."
Yaya DaCosta plays a Siren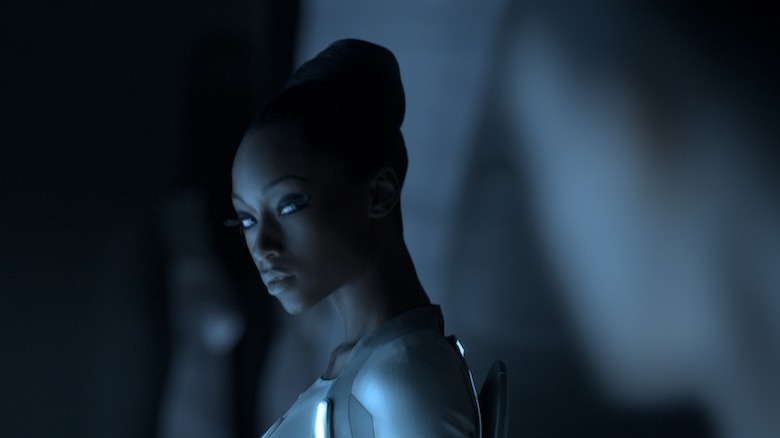 Disney+
When Sam Flynn first finds his way into the Grid and he's forced into the games by Clu's regime, he's given a slick neon-striped suit to wear into battle by a group of programs called Sirens, whose purpose is to prepare programs for their fights. They get rid of his earthly clothes and outfit him in futuristic body armor. But one of the Sirens points out that Sam is different than the usual programs they deal with, immediately recognizing that he's from the real world. She's played by "Chicago Med" star Yaya DaCosta, who portrays April Sexton in the NBC series.
Nurse Sexton works in the emergency department at the Gaffney Chicago Medical Center, and she is a regular in the series until Season 6, Episode 16, "I Will Come to Save You." Thankfully, she doesn't have a tragic exit from "Chicago Med," with the character choosing to leave so she can go and train as a doctor. Sexton also occasionally shows up in "Chicago Fire" and "Chicago P.D." as part of the interconnected storylines that spread throughout the Dick Wolf-created universe. Although the star doesn't have a huge role in "Tron: Legacy," the role was clearly a stepping stone to bigger things, because DaCosta's then went on to appear in "House," "The Nice Guys," and "Our Kind of People," as well as the various "One Chicago" shows (via IMDb).