Julie Ann Emery's Favorite Betsy Line On Better Call Saul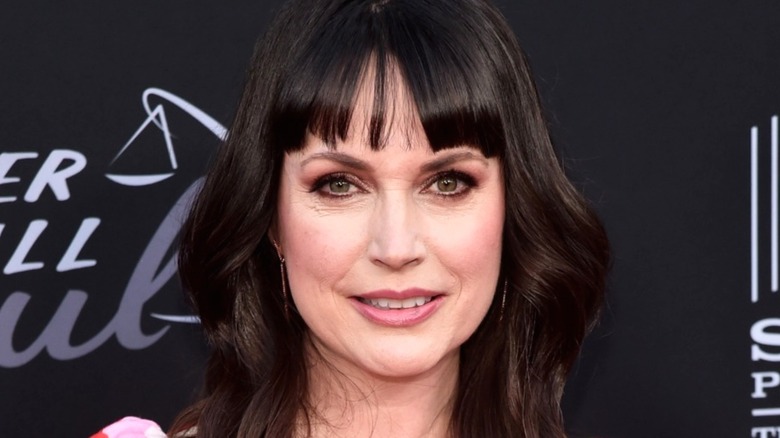 E. Rodriguez/Getty
Contains minor spoilers for "Better Call Saul" Season 6, Episode 2
In the latter half of the two-part "Better Call Saul" Season 6 premiere, Jimmy McGill (Bob Odenkirk) and Kim Wexler (Rhea Seehorn) hatch a plot against longtime quasi-antagonist Howard Hamlin (Patrick Fabian) that necessitates manipulating the Kettlemans. Dedicated "Better Call Saul" fans will remember the Kettleman family from "Better Call Saul" Season 1, in which Bernalillo County treasurer Craig Kettleman (Jeremy Shamos) and his wife Betsy (Julie Ann Emery) embezzle a significant sum of money from the local government. They then attempt to alternately hire and bribe Jimmy to help them effectively get away with their crime consequence-free.
Craig and Betsy are thoroughly white collar criminals, living what appears to be a privileged life in a large home prior to their embezzlement scheme. In addition to these circumstances, due to the way Betsy in particular looks down on most others, a number of viewers online have described her as perhaps their most hated character from throughout the entire series.
In light of Betsy's return, Emery shed some light in a recent interview on what it was like to portray the Kettleman matriarch on "Better Call Saul," during which she revealed her favorite line spoken by her character during her second run.
Julie Ann Emery thinks a line from an April Fool's Day documentary encapsulates Betsy's essence
Nearly one week after the two-episode "Better Call Saul" Season 6 premiere, The Hollywood Reporter spoke to Julie Ann Emery about her role as Betsy Kettleman, and what it was like to return to the character after a four season absence. At the end of their conversation, THR interviewer Brian Davids asked Emery to share her favorite Betsy line since her character returned to the series. Rather than pick a line of dialogue from "Better Call Saul" proper, Emery cited a moment from a mockumentary released in advance of Season 6 as her favorite.
On April Fool's Day 2022, the CNBC Prime YouTube channel posted a video titled "American Greed: James McGill," mimicking a real-life crime documentary but with the fictional Jimmy McGill as its subject. Among a number of other mock-serious segments, the video includes an interview with Craig and Betsy Kettleman. At one point, Betsy refers to herself and Craig as victims, with which Craig quickly agrees. Betsy then adds, "we're survivors," facing directly toward the camera.
"That sounds weird because it's not the most complicated line, but it is so at the core of Betsy," Emery told THR about why she likes this moment so much. Emery, then, seems to find an altogether dramatic self-perception, as reflected in this short line, as at the heart of her portrayal of Betsy.