The Most Uplifting My 600-Lb. Life Episode According To Fans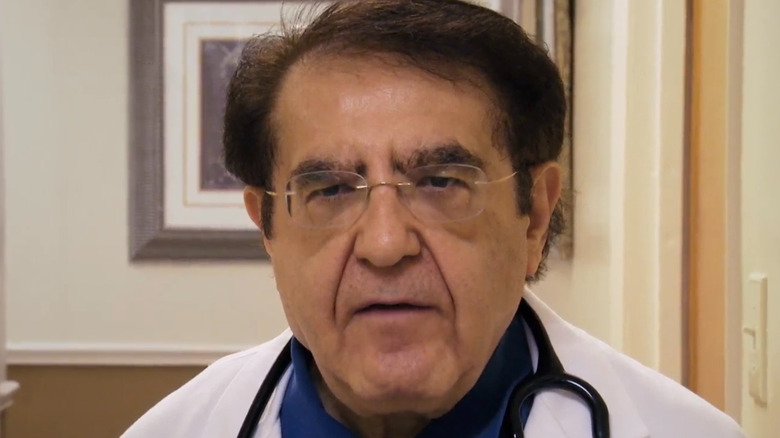 TLC
"My 600-lb. Life" has followed the journeys of Americans struggling with extreme obesity for over a decade since its debut on TLC in 2012 (via IMDb). Subjects on the show attempt to change their lives with the help of bariatric surgeon Dr. Nowzaradan. Through its nearly 170 episodes, viewers have seen amazing body transformations, heartbreaking lifestyles, extreme diets, and more. The show even spawned a spin-off titled "My 600-lb. Life: Where Are They Now?" in 2015 (via IMDb).
The reality show's serious subject matter can leave some viewers feeling upset or even shocked at what is depicted on screen. Needless to say, the series isn't as easily watchable as other types of reality television.
However, certain episodes of the show have the opposite affect, leaving viewers feeling good and perhaps inspired to make healthier decisions in their own life. While there are numerous episodes with this effect scattered throughout the show's 10 seasons, one from an early season in particular stands above the rest as the height of the show's positivity.
Nikki's infectious positivity
The debut of season four of "My 600-lb. Life" chronicles "Nikki's Story." Nikki Webster is a Missouri resident who begins the show around 650 pounds. She manages to lose weight in her initial appearance on the series, and her return appearance in the follow-up show sees her weighing less than 200 pounds (via YouTube). However, her dramatic body transformation is not the only thing fans were drawn to. 
In the "My 600-lb. Life" subreddit, when a user asked for a non-depressing episode of the show, fans eagerly recommended Nikki's. "She is the first one I have seen who had a normal attitude from the start, and wasn't whiny and manipulative," wrote u/Ninotchk. "She was just a good, normal person. I loved her."
In the YouTube comments on a clip from Nikki's "My 600-lb. Life: Where Are They Now?" appearance, in which Nikki tries on pants for the first time in close to 10 years, more fans shared their enthusiasm for her personality.
"It was clear from the beginning that she was a genuinely good person–she strikes me as the kind who doesn't have a mean bone in her body," wrote user moonstone. They also added that Nikki is one of their favorite people to ever be featured on the show, garnering the comment more than three thousand likes.
Nikki has since become happily married after her appearance on both shows, and shared the good news with her 11 thousand Instagram followers – still spreading her infectious positivity.