Yellowstone's Luke Grimes Finally Addresses That Viral Jamie Fan Theory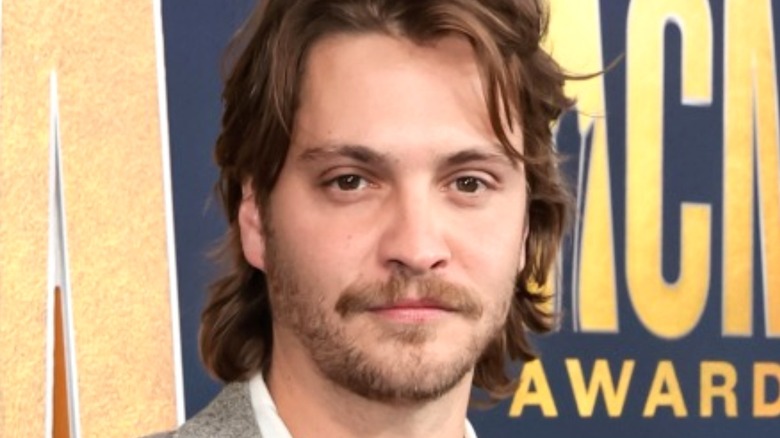 Jason Kempin/Getty
Since its 2018 debut on Paramount Network, "Yellowstone" has become a ratings hit beyond even the wildest expectations of co-creators Taylor Sheridan and John Linson. That's saying a lot too, as expectations weren't exactly small for a series fronting Sheridan's name alongside the likes of Kevin Costner, Cole Hauser, Kelly Reilly, and Wes Bentley. As it was, the only real question mark about "Yellowstone" ahead of its debut was whether viewers would tune in to watch what, on paper, seemed a relatively classic-styled Western. 
It's safe to say that the question has been answered tenfold. And under Sheridan's guidance, "Yellowstone" has often bucked those classic Western tropes to become a distinctly modern cowboy saga bolstered by a savvy mix of pulse-pounding action and character-driven drama. Most impressive is that Sheridan has managed to keep the even show's more colorful characters easily relatable to viewers. And for some "Yellowstone" fans, the most relatable character in the series is Luke Grimes' soul-searching cowboy Kayce Dutton. 
That's been true since the early days of "Yellowstone," as Grimes' grounded, often-introverted work has not only been proven mesmerizing but arguably helped Kayce become a blank-canvas sort of character who viewers can essentially paint their own emotions onto. And that fact is likely a big part of what fueled a viral "Yellowstone" fan theory, which posits that Kayce knew about the complicated lineage of his brother Jamie (Wes Bentley) long before his siblings did. 
Grimes has an interesting read on what Kayce did or didn't know
It was revealed in Season 3 of "Yellowstone" that Jamie Dutton had indeed been adopted by John Dutton (Kevin Costner) and his late wife Evelyn (Gretchen Mol), and that revelation understandably sent shockwaves through Dutton Nation. It's likely also altered the trajectories of the entire Dutton family in ways we still haven't fully seen, though Kayce took the news with the expected level of stoic grace.
As noted in a recent interview with The Hollywood Reporter, a memorable Season 3 scene — in which Kayce tells Jamie he should always call him brother no matter the circumstances — even had some "Yellowstone" fans debating whether the younger Dutton hadn't somehow known about Jamie all along. In the same THR interview, Luke Grimes confirmed he also believed that to be the case, stating, "Well, the way that I said that line kind of implied that even though I know what I know now, you're still my brother. That's how I sort of interpreted that even though there is no scene written where Kayce discovers this."
The actor went on to hedge slightly on his read of the scene, however, offering, "And it's funny you ask because I could be completely wrong about that but the line always felt to me like, 'I know, but it doesn't change the fact that we grew up together. I love you and you love me. This is stronger than biological stuff.'"
Right or wrong, Grimes' read made it one of the series' most emotionally-satisfying moments.