Patrick Flueger's Favorite Chicago P.D. Scene Is A Classic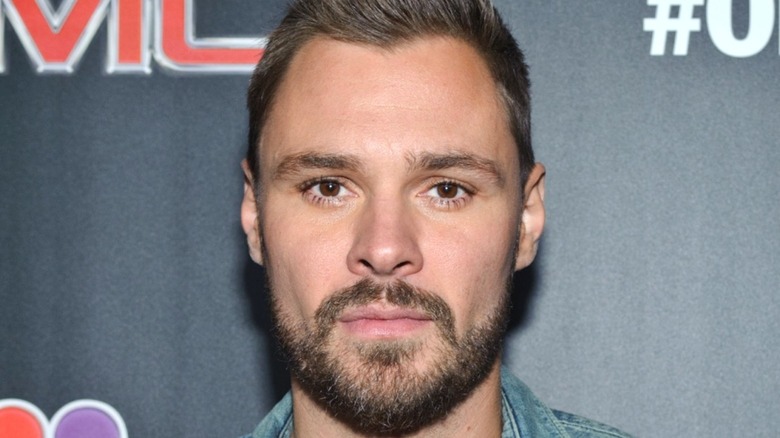 Timothy Hiatt/Getty Images
"Chicago P.D." is one of three shows that make up the Chicago One franchise of network dramas on NBC. It's a bit of an edgier show, especially considering the fact that it features a main character who is a violent vigilante cop (Hank Voight, played by Jason Beghe). But despite some of the questionable storylines, over 6 million people (via TV Series Finale) tuned in to watch the most recent episode. So they've gotta be doing something right.
On the show, Patrick Flueger plays Officer Adam Ruzek, who spends most of his time working in intelligence. He has an on-again, off-again romance going on with Officer Kim Burgess (Marina Squerciati), a pseudo father/son dynamic with mentor and friend Alvin Olinsky (Elias Koteas), and a strong loyalty to Voight. On Reddit, he's a big fan favorite. During a recent interview for the show, Flueger took a minute to dish about which scene in "Chicago P.D." was his favorite to film — and you might be surprised by his response.
It was in Ruzek's very first scene where he made a good impression
The very first time that viewers met Adam Ruzek in the series, he's at the police academy undergoing a training exercise. That exercise consists of an actor pretending to be a distraught, suicidal person with a (fake) gun to his head. Most human beings naturally err on the side of empathetic caution in such situations, but not Ruzek — instead of trying to convince the person to relinquish the gun and give life a second chance, he bullrushes him and takes his weapon. But it's exactly that "out of the box" thinking that impresses Olinsky, who tells Ruzek's commanding officer that he'd like to offer him a position with the intelligence unit.
When Flueger looked back on that moment fondly in this One Chicago YouTube featurette, he said it was his favorite scene he's ever done. Fans in the comments below the video were eating it up. One fan couldn't help but gush about how "they clearly love their jobs and appreciate their fans." Many of the other comments on the video came from users who shared a similar sentiment, even from people who don't live in the U.S. where the shows are set.
If you or anyone you know is having suicidal thoughts, please call the National Suicide Prevention Lifeline​ at​ 1-800-273-TALK (8255)​.