The Chicago P.D. Season 1 Scene That Went Too Far
"Chicago P.D." has been on the air since 2014 and throughout its run, the show has amassed a huge fanbase. The exploits of the 21st District's Intelligence Unit, led by Sergeant Hank Voight (Jason Beghe), have proven to be just as enthralling as the other shows in Dick Wolf's One Chicago franchise. The series' 9th season has included some pretty disturbing scenes, but that is to be expected from a show that has been shocking viewers since the very beginning.
"Chicago P.D." has always been a bit of an emotional rollercoaster. It's chock-a-block full of heartbreaking moments, gritty crime drama, and dashes of romance here and there. Also, they aren't afraid to get brutal. And we mean brutal. The show came out swinging in its very first episode when Officer Willhite (Melissa Sagemiller) was shot point-blank in the head and instantly killed. But in the very next episode, when an officer's family is threatened by a high-ranking member of a drug cartel, there's a scene in a basement where things get taken way too far.
Episode 2 features a violent — and illegal — interrogation scene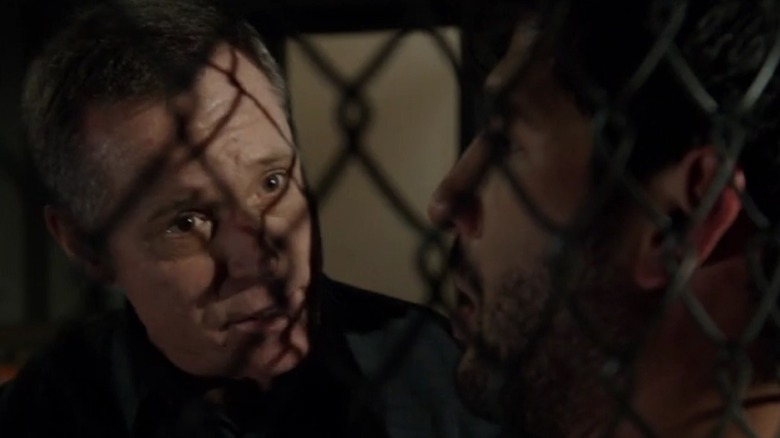 NBC
In Episode 2 of Season 1, titled "Wrong Side of the Bars," Detective Dawson's (Jon Seda) son gets kidnapped, which causes the detective to venture over to the dark side and ask for help from Voight and his dirty cop ways. Here, audiences are introduced to a secret space that is prominently featured in Season 1 and is basically Voight's vigilante cop equivalent of a serial killer's murder room. Together, Voight and Dawson physically torture a suspect in the kidnapping by punching him in the ribs with chains wrapped around their fists until he spills the beans about how to find Dawson's kid. The violence is drawn out slowly to elicit a more visceral reaction, with lots of close-up shots to make the audience feel like they're there while the dimly lit scene casts a menacing shadow on what is the textbook definition of an illegal police interrogation.
The scene is also a good example of how Voight's brutality goes a long way to making the character wholly unlikeable. There are entire Reddit threads dedicated to asking why people like Voight based on that scene and scenes like it due to how over-the-top and extreme he can be. 
Viewers may be desensitized to the show's disturbing content by now, but this Season 1 scene certainly made an impact at the time.