The Hitman's Bodyguard Leads Slowest Labor Day Weekend In Almost 20 Years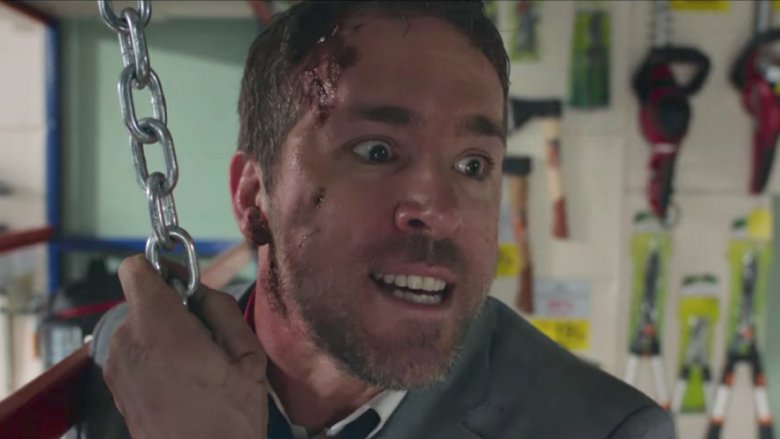 Chalk this up as a disappointing end to a disappointing summer. The Hitman's Bodyguard led this past weekend at the box office in what will likely become the slowest Labor Day weekend since 1998. (via Variety)
This marks the third weekend in a row that the Samuel L. Jackson and Ryan Reynolds action comedy has taken home a win, making it the only movie this summer to do so. Still, though, it can't exactly be marked as a success story for Hollywood. Last weekend was the slowest weekend at the box office since the Sept. 21-23, 2001 frame, and this weekend looks to only add more insult to injury.
Most of this weekend's failure can be attributed to the fact that there were no new wide releases. The fact that many of the weekend's movies saw an uptick in viewership from last weekend hints that audiences were still looking to head out to theaters this weekend; however, the fact that there was no new tentpole to draw them in meant that your casual moviegoer was without many options to choose from.
The top 10 was filled out by holdovers from the past weekend, including the low budget horror success Annabelle: Creation and the continual good performers Dunkirk, Spider-Man: Homecoming, and Despicable Me 3. In all, these movies have the box office estimated to fall between $90 million and $100 million over the four-day frame, down 22 percent when compared to last year.
While there were no new wide releases, there were some attempts to launch new films. These include the Alicia Vikander and Dane DeHaan period drama Tulip Fever, which got a lot of buzz when its sexy trailer was banned from TV. However, negative reviews put a pretty quick kibosh on that discussion, leading the movie to fall in 22nd place, earning $1.2 million across 765 theaters.
This wasn't even good enough to beat out the rerelease of Steven Spielberg's Close Encounters of the Third Kind, which took 13th place in its 40th anniversary rerelease with $1.8 million from 901 theaters. Hollywood also chose to reexpand some of its other pass hits, with Wonder Woman, The Big Sick, Cars 3, and Wind River all seeing improved hauls after heading into more theaters.
All in all, this summer box office is projected to finish around $3.8 billion, the lowest since 2006. (via The Hollywood Reporter) The disappointing few months will hopefully be turned around by some big fall releases, with Stephen King's IT projected to kick off September with a potentially record breaking opening. This month also sees huge releases like Kingsman: The Golden Circle and The LEGO Ninjago Movie, which could provide some other much needed success stories. 
You can view this weekend's full box office results (via Box Office Mojo) below. 
Top 10 Weekend Box Office Gross
1. The Hitman's Bodyguard: $10,250,00 (-0.1 percent), $54,944,214 Total Domestic Gross   
2. Annabelle: Creation: $7,300,000 (-5.0 percent), $88,975,598 Total Domestic Gross  
3. Wind River: $5,863,074 (+27.4 percent), $18,285,511 Total Domestic Gross  
4. Leap!: $4,886,923 (+3.3 percent), $11,381,726 Total Domestic Gross  
5. Logan Lucky: $4,421,125 (+4.2 percent), $21,451,612 Total Domestic Gross  
6. Dunkirk: $4,125,000 (+4.5 percent), $178,754,545 Total Domestic Gross  
7. Spider-Man: Homecoming: $3,650,000 (+29.4 percent), $324,051,546 Total Domestic Gross  
8. The Emoji Movie: $2,450,000 (-2.3 percent), $80,326,714 Total Domestic Gross  
9. Despicable Me 3: $2,360,175 (+34.8 percent), $257,895,405 Total Domestic Gross  
10. Girls Trip: $2,322,430 (-1.7 percent), $111,581,945 Total Domestic Gross